blue-mountain-beach-salty-marias-19-mary-street
Blue Mountain Beach "Salty Maria's" 19 Mary Street | Santa Rosa Beach Vacation Rental
HOME HIGHLIGHTS:

- Private Heated Pool - Pool heating is available for an additional $45 per day between Oct 1st and May 1st

- 3 Adult Bikes

- Excellent Outdoor Space

- Large Yard for Games

LOCATION: Easy walking distance to the beach

DETAILS: Nestled in the charming community of Blue Mountain Beach, "Salty Maria's" is a quaint beach cottage, on the South side of 30A, just a short walk to the emerald waters of the Gulf of Mexico. This newly remodeled, 3 bedroom/ 2 bathroom home evokes a relaxing and cozy atmosphere for the perfect beach getaway. The homes spacious open layout features a new granite kitchen with brand new stainless steel appliances, all new wood flooring throughout, fresh paint in all rooms, a living room with wood burning brick fireplace, sun room, dining room, and split bedroom floor plan. After relaxing indoors, splash into the brand new private salt water pool. Take a stroll to the private beach access (250 yards away) for hours of fun in the sun! When you are ready to explore and grab a bite to eat, head over to one of the nine restaurants within walking distance, including those of Gulf Place. When you are ready to further explore the beautiful area and dune lakes, hop on one of the bikes provided. Check availability and book with 360 Blue today!

SLEEPING ARRANGEMENTS (Sleeps 7):

FIRST FLOOR:

Master Bedroom: King Bed (2), Private Bathroom with Shower

Guest Bedroom: King Bed (2), Shared Bathroom with Shower/Tub Combo

Guest Bedroom: Single over Full Bunk Bed (3), Shared Bathroom with Shower/Tub Combo

AMENITIES INCLUDE: 3 adult bikes provided, private pool and outdoor living space This property comes with 2 dedicated parking spots. Complete Clean Linen Participant - ALL linens, including comforters laundered upon every checkout.

360 BLUE STAFF & SERVICES: Exclusive Guest Experiences, Concierge Services, Grocery Delivery, Private Chef & More (Extra costs & advanced notice may be required)

Weddings are not allowed at this home. If this policy is violated, you may be asked to vacate the property and forfeit any rental payments as well as be subject to HOA, community and 360 Blue fines.
Thank you for entering your review. The review will become available to the system shortly.
July 2017 Stay
Rating:
We had an excellent stay at Salty Maria's. We've been coming to the 30-A area with our family of 4 for the last 5 years and this is our best beach rental yet! The location was excellent and it's so nice to have everything on one floor - makes loading in and out a breeze! We and our 2 young daughters (ages 8 & 9) loved the pool at this property and the location was truly outstanding for everything we wanted to do! The open floor plan was great for spending quality time together and the girls loved the bunk room - they even hung out in there when not sleeping since they had their own tv to watch so mom & dad got some nice quiet time together!! The dining table was great for family cars and we appreciated the large laundry room which came in handy for us. It's a short walk to the Gulf Place area from the house - we love Growler Garage and Pecan Jack's ice cream and Pizza by the Sea!! We enjoyed an afternoon at Destin Harbor on a SeaBlaster dolphin cruise and we rented a pontoon in Panama City for a half day to
Property Manager Response:
What a beautiful view! We are so happy you enjoyed your vacation and the neighborhood as well! It truly is a one of a kind place and we are so happy you got to experience it! Thank you for choosing to stay with 360 Blue and we hope to have you back on 30A again soon!
July 2017 Stay
Rating:
We had a great stay at Salty Maria's! We spent a ton of time relaxing/playing in the pool and the short bike ride to the beach was made simple by the bike with the buggy attachment -- great for hauling beach gear. The beach chairs and umbrella rental, through the concierge, were always set up on time and were there as long as we liked during the day. Loved the quick proximity to restaurants and shops. The home was well furnished and spacious enough for our family of five, including two teenage boys. Loved the interior renovation, the only areas that could use some attention are the bathrooms. Outdoor shower is great! We highly recommend Salty Maria and 360 Blue to anyone looking for a great stay along 30A!
Property Manager Response:
What a beautiful photo! We are thrilled you enjoyed Blue Mountain so much! It is such a beautiful home and so close to the beach and shops. Thank you for your feedback on the bathrooms. We have passed that information along to the property manager to discuss with the owner. Thank you for choosing 360 Blue and be sure to visit us again soon!
June 2017 Stay
Rating:
My husband, our two year old and sixteen year old, my 77 year old father and my inlaws all enjoyed a fabulous stay at Salty Maria! The house was immaculate when we arrived and we loved having the private pool and grassy area for yard sports. The pool was great for our toddler because it provided a very shallow (4 inches) area where he could play with all of his toys and stay cool. The walk to the beach was a little longer then we anticipated but completely doable even with all of our gear. We loved having the bikes and during naptime the grandparents would hang at the house and my husband and I would ride into Grayton and enjoy a drink or two at Red Bar or Charingo and then ride back. Only 9 miles total and an easy 30 minute ride each way. The house came stocked with all of the necessities and we enjoyed not having to run to the store on our first day. We love this part of Florida and after many years exploring different areas, we found a place to settle at least twice a year. We will definitely be enjoying a
Property Manager Response:
Sounds like everyone had a truly incredible time in this beautiful home! It provides something for everyone and is the perfect place for a family getaway. We are thrilled that you loved this home as much as we do and we can't wait to have you back!
May 2017 Stay
Rating:
Our family of 5, with three teenagers, really loved this location and home for a beach vacation. Our teens really loved swimming in the pool in the evenings with the pool lights changing colors. The bedrooms were very comfortable for them as they had enough room and were well rested. We were glad we brought a cart to carry chairs and umbrellas to the private beach. Our favorite moment was eating dinner on the beach to watch the sunset.
Property Manager Response:
What a stunning photo! We're so glad you got to enjoy one of our beautiful sunsets! We're happy to hear that you enjoyed your stay with us so thoroughly, and got to take advantage of fun nights in the pool! Thank you for choosing 360 Blue for your family's beach getaway and taking the time to provide us with valuable feedback. Be sure to come back and see us real soon!
March 2017 Stay
Rating:
My sister and I stayed here for 6 days. The home is comfortable and clean with an homey feel. The beds are comfortable, the pool is inviting, and the walk to the beach is easy with no traffic. The location is great. The kitchen has new appliances and utensils, and appears to have been recently renovated. The garage has an extra refrigerator and games which would be great for larger groups. The beach decor is tasteful and attractive. We enjoyed the bikes. This is a great rental. We also ate at 98 BBQ and Chanticleer Eatery. Both were very good, but the food and drinks at the eatery were great!
Property Manager Response:
We are so thrilled that you had such a great stay and were able to take advantage of everything this amazing home and community have to offer. It is truly the perfect place for a beach getaway. We look forward to having you back soon!
January 2017 Stay
Rating:
Second time that we've stayed at this home and we absolutely love it! Will be back for many more visits in the future! This was our first time along 30-A in January and we were pleasantly surprised with the great weather. Some cold days but most of the time it was in the 70s--perfect for some quiet beach time. The large, heated pool was also a huge bonus. We really love the outdoor space (and games) at this house. And the house now has a great library of books to read/share/trade. Can't wait to come back to 30-A and this house!
Property Manager Response:
We are so thrilled that you enjoyed your stay. This beautiful home is the perfect place for a beach getaway any time of year! We look forward to having you back soon!
October 2016 Stay
Rating:
This was a perfect house for our family of five. Great service from 360 Blue and sparkling CLEAN! Pool was an added bonus after hot days on the beach, which was not at all crowded. Highly recommend!
Property Manager Response:
Such a beautiful and relaxing photo. We are thrilled to hear you and your family had such an enjoyable stay. Thank you for choosing 360 Blue and be sure to visit us again soon!
September 2016 Stay
Rating:
Stayed at 19 Mary Street for a week and it was absolutely perfect! House was exactly like pictures show, great location, and very close to the beach. The private beach access was a short 5-6 minute walk but is not handicap accessible. The beach was very private though, gorgeous clear water and perfect white sand. There were several public beach accesses close by that were and made it easier on us with a baby and a stroller. The private pool was nice to come back to after a day at the beach and had a nice shallow area at the top that our little one could play and splash in. The house on the inside is very modern and updated just as the pictures show except for the two bathrooms. Overall we had a wonderful stay and would consider coming back to this house and using 360 Blue in the future.
Property Manager Response:
Such a beautiful photo! We are so happy that you enjoyed your stay in this amazing home. It really does provide everything for a perfect beach getaway. We loved having you with us and we hope to see you back soon!
Best Beach Stay!
Rating:
The house on 19 Mary Street was such a great find! We stayed for five days in early September and had great weather--sunny and about 85 each day. It really felt like a home as soon as we walked in: great spaces in the living room, dining room, and kitchen, and decor that makes you feel like a 30A local. The highlight is definitely the pool, which is much bigger than any of the others we saw as we strolled around. Amazingly, you\'re about as close to the beach (3- to 5-minute walk) as you are to a really cool town center. Iced coffee and cinnamon rolls at Sunrise Coffee? Um, yes please! We actually ended up using the three house bikes quite a bit to pedal around the area, including some of the beautiful surrounding neighborhoods. This was a really unique vacation for our family, and we\'ll definitely be coming back to 19 Mary in the future.
Manager Response:
We are so thrilled that you had such a wonderful stay and were able to enjoy all that this beautiful home and community have to offer. We hope to have you all back soon!
Family Friendly House!
Rating:
Recently my family spent 5 days at 19 Mary Street in Blue Mountain Beach. We were very pleased with the accommodations. The home was tastefully decorated with comfortable furniture, the kitchen was well stocked with necessary kitchen items, and the beds were comfortable. The pool is a great asset with features such as a bubbling fountain, pool umbrella, and nice deck furniture. The location is ideal, as we walked to many restaurants and the beach is less than a 5 minute walk away through safe streets and a private entrance to the beach. A recommendation would be to put door handles on the kitchen cabinets. Clearly the cabinets are new, they just need handles.
Manager Response:
We are so happy to hear that you had such a great stay in this amazing home! It really has everything a family could need and more. We appreciate your feedback on the cabinet and we have gotten handles added to them! We hope to have you all back next year!
Love it!
Rating: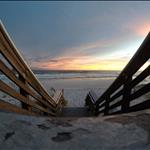 We stayed at 19 Mary for a few weeks in August and absolutely loved it. The house was very nice with a beautifully renovated kitchen (we loved the sink). The pool was definitely a highlight. I had never been in a saltwater pool and didn't realize the water was so soft, didn't taste like salt, and had no harsh chlorine. It was perfect for our young daughter. We also loved grilling by the pool in the evenings. The big yard space really sets the house apart, and there are several yard games (cornhole, bocce, croquet, and a few others) for guests to enjoy. A few days before we left, someone that previously lived at the house drove by and saw us outside. He stopped to chat and kept emphasizing how much he loved the house and all of the changes the owners had made. The home's location is ideal as it is a short walk to shops, restaurants, a private beach access, and several public beach accesses. We will definitely go back to this house for all future stays in the area. Highly recommended!!
Property Manager Response:
We are so happy to hear that you had such a wonderful stay with us. This home is truly amazing and you can't beat that pool. We hope to have you back with us very soon!
July 2016 Stay
Rating: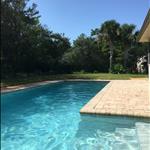 Stayed at 19 Mary street for 3 weeks as a prolonged celebratory vacation. Loved the area and the house, but property management / owner need better communication. Property: 9/10. the pool was wonderful. private. quiet. bathrooms need to be renovated. Management: 6/10 poor communication. concierge never returned our call for beach gear. often had landscaping coming and going without notification. For example: woke up one morning to 6 men in the backyard laying sod. Landscapers came regularly without notification. Afterwards, millipedes were all over the backyard and in the pool. Property manager tried to help, but overall it was beyond her. Expected more for the cost. Location 10/10: a block away from the beach. two blocks from shopping center / restaurants. Safe and quiet. Overall, I would go back to the area / house, not sure about 360blue though.
Property Manager Response:
We are truly sorry to hear that parts of your experience were less than ideal. We are thrilled to hear that you loved the home and location so much. We did have some miscommunication with the landscapers about when this home would be empty. We hope that the gift card that we provided helped to make your family a little more comfortable. We hope you are able to make it back to the beach soon!
When you book a stay with 360 Blue, you get access to a world class vacation with the area's most extraordinary eco-tourism adventures and family friendly experiences. We have a variety of activities from half day to full day experiences and we've handpicked every detail – door to door luxury transportation, kid's camps, stand-up paddling adventures and much more! Book your perfect getaway then let our guest ambassadors help you plan your adventures!
Your request has been sent. We look forward to meeting all your vacation needs!