miramar-beach-94-miami-street
Miramar Beach "Wintertide" 94 Miami Street | Miramar Beach Vacation Rental
HOME HIGHLIGHTS:

- 6 Seater Golf Cart

- 7 Adult Bikes

- Private Beach Access

- Complimentary Beach Set up

- Impeccable Gourmet Kitchen

- Private In Home Elevator

- 19 TVs Throughout

- Gulf Views

- Private Heated Pool **Pool heating is available for this property from October 1st through May 1st for $50 per day**

EXECUTIVE ACCESS: Guests staying at this 360 Blue property have access to limited golf tee times at Shark's Tooth and Camp Creek Golf Courses, the tennis courts at Shark's Tooth Club and complimentary use of two kayaks or canoes for one hour per day, as well as 20% off stand up paddle boards at the WaterColor Boathouse.

LOCATION: "Wintertide" is located 500ft from the private beach access.

DETAILS: 94 Miami Street also known as "Wintertide" is ideally situated in Frangista Beach and boasts exemplary coastal design throughout. Outfitted with seven bedrooms and six full bathrooms, notable features include an open floor-plan with multiple living areas, private elevator, and two spacious master suites with ensuite bathrooms. The finely appointed, gourmet kitchen with a large center island and top-of-the-line appliances, are perfect for preparing a meal for your large group. Adjacent to the kitchen is a dual dining room and living area allowing for optimal comfort and plenty of gathering space. The enormous rear patio is easily accessible and ideal for entertaining with a covered outdoor kitchen and grill as well as a massive pool and spa area, all encompassed by a privacy wall juxtaposed with lush tropical landscaping. Located within close proximity to gated deeded beach access as well as world class shopping, dining and entertainment, 94 Miami Street is perfect for you next extraordinary beach vacation! Book your next vacation at "Wintertide" with 360 Blue today!



SLEEPING ARRANGEMENTS (Sleeps 22):

FIRST FLOOR:

- Guest Bedroom: King Bed (2), Shared Bathroom with Shower and Tub

- Bunk Room: 2 Twin over Twin Bunk Beds (4), Shared Bathroom with Shower and Tub

SECOND FLOOR

- Guest Bedroom: King Bed (2), Shared Bathroom with Shower Only

- Guest Bedroom: King Bed (2), Private Bathroom with Shower And Jetted Tub

THIRD FLOOR

- Master Bedroom: King Bed (2), Private Bathroom with Shower And Jetted Tub

- Guest Bedroom: King Bed (2), Private Bathroom with Shower Only

- Bunk Room: 2 Twin over Twin Bunk Beds, 1 Queen over Queen Bunk Bed (8), Private Bathroom with Shower/Tub

OTHER AMENITIES INCLUDE: 7 adult bikes, 6 seater golf cart, large private heated pool. This property comes with 3-4 dedicated parking spots outside of the garage in the driveway. Complete Clean Linen Participant - ALL linens, including comforters laundered upon every checkout.

360 BLUE STAFF & SERVICES: Exclusive Guest Experiences, Concierge Services, Grocery Delivery, Private Chef & More (Extra costs & advanced notice may be required)

Parties, weddings or events held at the property must be pre-approved in writing by 360 Blue, otherwise guests will be subject to HOA, Community and other associated fines.
Beach Chairs & Umbrella(s)
Thank you for entering your review. The review will become available to the system shortly.
July 2019 Stay
Rating:
Our family of 13 stayed at Wintertide for 7 days. We had 8 adults and 5 small children. Spacious. Well equipped kitchen for cooking in. Tons of towels- thanks!!! Great beach access. Pool and outdoor kitchen was great alternative to the beach. Elevator was life saver for loading and unloading. Lots of tv's! Great service from 360 Blue. Golf cart made it easy for quick trips to adjacent shops and store. Only suggestion is some additional comfortable seating on first floor. We spent a lot of time down there and had to get creative. We loved the neighborhood, the house, the beach and the service. Would definitely recommend and would return!!!!
June 2019 Stay
Rating:
We spent a wonderful week with 18 people, ages 80 - 3. Plenty of room and everyone loved their time. Easy walk to the beach and the pool was fantastic. We cooked every meal and appreciated the luxurious chef's kitchen and room for us all to eat at once. Two dishwashers really is an amazing amenity!! Thank you for such a beautiful stay.
June 2019 Stay
Rating:
Our entire family of 12... including a two year old... came to celebrate my husband's birthday. The house, pool, entire property was immaculately clean. The kitchen was well equipped, and we felt safe with the baby because of the kitchen and den on the second floor and the alarm on the door to the pool downstairs. We loved the fast and easy access to the beach. When we first arrived, we had some minor issues that 360 immediately took care of. I would highly recommend this house and working with 360! We had an outstanding experience and will rent through them again when in this area.
Property Manager Response:
Janis, we are thrilled to hear that you enjoyed your stay in Miramar Beach! Thank you for providing the picture of your party enjoying the beach. It looks like you all are having a wonderful time! We appreciate you staying with 360 Blue and look forward to accommodating you all again soon!
April 2019 Stay
Rating:
This house is amazing! We had the best week ever and could not have asked for a better place to stay. Everything is clean, the home is beautiful, comfortable beds, great pillows, very well built so inside your room was quiet and closed off... which was good for naps and sleeping in. It's a close walk to the beach, the golf cart and bikes were awesome added features and the location is the perfect vicinity to everything to eat, see and do! We can't wait to come back!
Property Manager Response:
We are so thrilled to hear how much you enjoyed your vacation with us in Miramar Beach at this amazing home! We agree that this home is extremely comfortable for the entire family! Thank you for staying with 360 Blue, we hope to see you again soon!
March 2019 Stay
Rating:
360 Blue was awesome to work with! House was immaculate! Pool was great. House has everything needed!
Property Manager Response:
Thank you so much for the kind words! We are so glad that you enjoyed your stay with us at Miramar Beach! We hope to see you at the beach again soon!
December 2018 Stay
Rating:
Loved our time here. Thought about doing multiple condos but didn't want to miss the late-night games and early morning coffee together. This house was perfect- except for the jackhammering/construction next door! We are four adult siblings w our spouses, parents and children so we ranged in age from 3-83! We celebrated a 50th birthday and a 17th birthday. We spent very lIttle time on the beach due to the thick fog and stormy skies... but one of us commented that the fog served as a blanket surrounding us w love! We thank you for your hospitality!
Property Manager Response:
We are so glad that you enjoyed your stay with us in Miramar Beach! We agree that this home perfectly accommodates everyone! Thank you for staying with 360 Blue, we hope to see you again soon!
September 2018 Stay
Rating: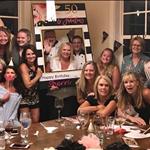 It was my 50th birthday weekend and I wanted to go someplace to relax and have fun. My daughter, two sisters, and 8 amazing friends made it a wonderful weekend and this house was perfect for the occasion. 360 Blue was great in dealing with anything we needed help with.
Property Manager Response:
We are so thrilled that you enjoyed celebrating your 50th birthday with us in Miramar Beach! We especially loved the photo you shared with us, it looks like you all had a blast! We look forward to hosting you all again very soon!
August 2018 Stay
Rating:
The home was beautiful, the pool & hot tub relaxing! We loved having a golf cart to cruise around in along with the bikes to ride wherever we needed. Our party of 16 ranged in age from 88 down to 3 so having an elevator along with a high chair was perfect! The one issue we had with cue sticks not having tips was resolved immediately by the property mgmt who brought over a couple replacements. This was our first family vacation and we can't wait to do it again next year!
Property Manager Response:
What a beautiful family photo! We are so happy you were able to create so many wonderful memories in Miramar Beach! We are thrilled we were able to resolve the pool cue issue so quickly! Thank you so much for choosing to stay with 360 Blue and we hope to have you back again soon!
June 2018 Stay
Rating:
Amazing property. Game room with nice pool table, kitchen with large island, and good sized pool were excellent. Also liked the outdoor kitchen with tv. Elevator was helpful for my dad who has difficulty with stairs. Floors all tile or wood which makes easy sand clean-up.
Property Manager Response:
We are delighted to hear how much you and your family enjoyed your vacation! We agree that this home in Miramar Beach is a perfect spot to enjoy a relaxing beach getaway. We look forward to having you again soon!
June 2018 Stay
Rating:
Wonderful home in a great location! 21 people spread out nicely. Luxurious home and attentive management. Great pool area!
Property Manager Response:
We are so thrilled that you enjoyed your stay in this beautiful home! It is the perfect place for a fun summer getaway. We hope to see you back at the beach again soon!
January 2018 Stay
Andrew and Barbie Urbanski
Rating:
The house is exceptionally well-maintained and cared for by the owners. The large window seats that flank the tv are newly and beautifully upholstered as are the living room chairs and couch. Everything about the house just feels new and fresh, like we were the first ever to visit the home (credit to 360 Blue - they have to be the best vacation concierge and property manager in the area). The linens were crisp and the mattresses/pillows felt brand new. Speaking of, those bunk mattresses felt like featherbeds - so comfortable; we had a blast in there with the kids (each bunk has its own tv!). The game room was furnished with nice leather club chairs, wine fridge, and ice machine making it a way more convenient and comfortable hangout than what we've seen in other houses. The kitchen was stocked with plenty of new pots/pans, massive salad bowls to feed the brood, two coffee pots AND a Keurig (and an espresso machine we didn't use). Who knew dual dishwashers was an amenity?! We absolutely loved the pool
Property Manager Response:
We are so happy that you loved this amazing home as much as we do! It truly is everything that you said and more. We hope to see you back at the beach soon!
November 2017 Stay
Rating:
94 Miami was a nice place to stay. Tons of room for our group of 13 along with the awesome pool, hot tub, bikes and golf cart was a hit. Close to everything you want or need. Quiet area close to beach and just a complete package. 360 Blue did help us out with an issue we had getting one of our family members in who is in an electric wheelchair by building a temporary ramp so she could come to pool area and enjoy with whole family. It was much appreciated! The open concept of house was nice with wheelchair and our large group, we never felt boxed in. Just a cool place to stay! Have stayed with other rental companies in Destin and 360 has proven they are the best. Hope you all continue with the outstanding expert service as it makes these vacations awesome with all the family memories. Thank you
Property Manager Response:
What a beautiful sunset! We were thrilled to be able to help you during your stay. We loved having you with us and hope to see you back soon!
October 2017 Stay
Rating:
We had a fantastic time in this property. Beautiful, spacious home with a great pool/spa outdoor area. We loved being a short walk to the beach, local coffee shop, DQ and shops. The golf cart was a hit, too!
Property Manager Response:
What a darling photo! It's definitely one to frame and look back on as they all grow up! We couldn't be happier that you had such a fantastic stay with us, and enjoyed the property so much! The outdoor space is perfect for entertaining groups of all ages! Thank you so much for choosing 360 Blue for your beach escape. Be sure to come back and see us again soon!
October 2017 Stay
Rating:
We had a wonderful time! This house is amazing! Very spacious, and we loved the pool and outdoor area! Had a little emergency with the air conditioner going out but was fixed in a very timely manner!
Property Manager Response:
We are so thrilled to hear that you had a great stay and that our maintenance team was able to act quickly and get that AC issue taken care of for you. We are grateful you chose 360 Blue and we hope to see you back soon!
September 2017 Stay
Rating:
This property was phenomenal! Perfect for a family getaway and conveniently located to Shopping, restaurants, and beaches! Would recommend to everyone and will definitely rebook! Thank you for the exceptional service!
Property Manager Response:
We are thrilled to hear you enjoyed the property and your stay with us so thoroughly. The location of this home really is so convenient to all of the great restaurants and shops in Miramar! Thank you so much for choosing 360 Blue for your beach escape. Come visit us again soon!
Awesome House!!!!!!
Rating:
This is the 3rd time we have stayed on this street. We were here when they were building this home, and could not wait to stay here. Needless to say, we were not disappointed. Everything was even better than in the pictures. Such a beachy and comfortable feel to it. The pool was great, as we had a 3 year old, and the ledge worked out perfect for her, the water was always warm and comfy. The rest of the kids loved the bunk rooms with the built in TV\'s. Only a short walk to the beach, BA coffee, and DQ. Close to groceries, shopping, restaurants, and very convenient to anything you might need. The only problem we had was with the internet, and the cable company was there 3-4 times, and never could get everything to work completely. As for the pool alarm, it is a state law, and it is annoying, but with little kids, it\'s just a nice reminder to keep an eye out for them.If you are looking for a beautiful place to stay, with lots of room for everyone, this is the place. We had 14 of us, 9 adults and 5 kids, and still had plenty of room. We love this area, and will be back!! This is an Awesome property.
Wonderful Summer Rental
Rating:
We stayed at this property shortly after it was built in August of 2013. The house itself is fabulous. Location was so close to the beach. Management was very friendly and helpful. Would highly recommend!
60th Birthday Celebration!!!!
Rating:
\"To celebrate my 60th I wanted a place that would hold 8 adults and 9 children ranging from 2-14. Couldn\'t have picked a more wonderful place. Everyone was just thrilled with your beautiful house. The bunk beds with the built-in T.V.\'s are fantastic. The pool was amazing. Glad we heated it for November because the kids would have been in it no matter what. The hot tub area was a great meeting place at night while one family did the cooking. Washer on first floor broke first time we used it, so thank goodness there was one on the third floor. Would be nice to see on the website, exactly how bedrooms were laid out with what size beds, etc. on each floor for reference before hand, but it all worked out. Mattresses were a little soft for our liking but really can\'t complain about anything else. Love the way the kitchen is laid out with all the room for meals with that many people. The walk to the beach was very short. The beach is beautiful and empty Thanksgiving time. Kids had a blast on the beach!!!! Also loved the idea of the pool alarm to warn us if any little ones got out by the pool with adult supervision. All in all, we would return in a heart beat!!!!!\"
What a fabulous trip
Rating:
We were looking for a place close to the beach and had a pool! We were not disappointed! This house is in a perfect location and so beautiful! Plenty of room for the 16 of us! We had 8 adults and 8 older kids! The pool table was a great addition! Thanks for the making this family trip a great and stress free one!
Perfect for large groups
Rating:
For our visit, we had five families, totaling 20 people, in the home to celebrate my parents 50 wedding anniversary and we couldn\'t have been happier with our choice. This home, simply stated, is amazing and the pictures on the site do fully capture the scale and beauty of this property. We were completely overwhelmed with how amazing this house was at every turn. The thought that went into the design of this property is clear as soon as you walk through the front door. No detail was missed! The large kitchen never felt crowded, there was plenty of indoor and outdoor seating, different living areas, a perfect sized private pool and hot tub, amazing views from the rooftop deck, and more than enough sleeping space. One thing that was not clear to me from the pictures is that there 2 separate kids rooms with a total of 10 individual, spacious built in bunks with a privacy curtain and each bunk had its own TV. The kids loved it! We absolutely would have enjoyed our time together as a family without every having to leave the house and pool area! That said, the private beach area was absolutely gorgeous! It was easy to see how this area earned the \"Emerald Coast\" nickname. And while the home is about a block from the beach, it was an easy walk and I actually loved and preferred the quiet, palm tree lined street with absolutely no traffic in front of the property. There is also several restaurants and shops within walking distance and with a ton of fun things to do and lots of shopping within a few minutes drive. The owner was also great to work with and very responsive to any questions we had both before and after our arrival. We would absolutely return to the home and area!\"
Perfect!!
Rating:
This home was perfect for our 3 families with small children and my parents. It is a gorgeous home, within very close walking distance to the beach. Our families loved the large pool and hot tub, as well as the wonderful kitchen with all the extras you would need! The kids really, really enjoyed their individual televisions in each of the bunks, and the parents loved the pool table and outdoor sitting areas. We could not have asked for anything extra - it was all provided!!