seagrove-156-chivas-lane-east-unit
Seagrove 156 Chivas Lane East Unit
HOME HIGHLIGHTS:

- Gulf views

- Directly across from the beach access

- Shared Pool with West Unit

- 4 adult bikes

- Wifi

- Great balcony space

- Stainless steel appliances

- Elevator

- Complete Clean Linen Participant - ALL linens, including comforters, laundered upon every checkout

LOCATION: This home is steps from the beach!

DETAILS: A wonderful property tucked away in quiet Seagrove! This four-story condo at 156 Chivas Lane East features four bedrooms, four bathrooms, and sleeping accommodations for 16 guests.

On the first floor is a guest bedroom with three twin-over-twin bunk beds, two twin trundle beds, and a private bathroom with shower/tub combo. This floor also features a common area with dining table and seating for 8, a living room with a sofa and plush, comfortable chairs, and a mounted flat-screen television. A set of French doors leads to the outdoor area, where guests can enjoy the sunshine and splash in the beautiful pool (shared only with the West condo unit next door).

The second floor features two bedrooms. The master bedroom features a king bed and a private bathroom with shower, soaking tub, and double vanity. The second-floor guestroom also boasts a king bed and private bathroom with a shower. A queen bed guestroom awaits on the third floor, complete with a private bathroom and shower/tub combo. The third-floor living area has a comfortable queen sleeper sofa.

This home's kitchen features stainless steel appliances, ample cabinet space, and granite countertops. The dining area provides seating for 8 guests at the table, with additional seating at the breakfast bar. The family room has comfortable seating and a mounted flat-screen television, perfect for unwinding after a long day in the sun.

Take in the spectacular sights from the balconies on second, third, and fourth floors with views of the sugar white sand beach and sparkling emerald waters of Seagrove beach. Guests can also take a breezy ride through Seagrove or Seaside on this home's four beach cruiser bikes. There is so much to see and do in 30A, so book this wonderful property by contacting 360 Blue today!

SLEEPING ARRANGEMENTS (Sleeps 16):

FIRST FLOOR:

- Guest Bedroom: Three Twin Over Twin Bunk Beds, Two Twin Trundle Bed, Private Bathroom With Shower Tub Combo

SECOND FLOOR:

- Master Bedroom: King Bed, Private Bathroom With Shower

- Guest Bedroom: King Bed, Private Bathroom With Shower

THIRD FLOOR:

- Guest Bedroom: Queen Bed, Private Bathroom With Shower Tub Combo

- Living Area, Third Floor: Queen Sleeper Sofa

AMENITIES INCLUDE: 4 adult bikes provided, gulf views, elevator. This property comes with 2 dedicated parking spots. Complete Clean Linen Participant - ALL linens, including comforters laundered upon every checkout.

360 BLUE STAFF & SERVICES: Exclusive Guest Experiences, Concierge Services, Grocery Delivery, Private Chef & More (Extra costs & advanced notice may be required)
Thank you for entering your review. The review will become available to the system shortly.
may 2017 stay
Rating:
this house was absolutely incredible!! before we arrived, we didn't realize it was a duplex, but it didn't matter because there was plenty of room. we had 20 people in our group (18 of them being teenage girls). there was honestly plenty of room. we brought blow up mattresses but there was lots of floor space and we weren't too cramped. the pool is great and the walk to the beach wasn't far at all - it took about 2 minutes. we brought pots and pans but the the house was more stocked that earlier reviews had described. definitely bring a cutting board though! the only thing the house was missing was a large table for everyone to eat at together. the biggest table was a table for 6, which didn't seem to make sense because the house technically sleeps 16. but we made it work with the plenty of porches! the AC wasn't working when we first arrived but maintenance came right away and were kind and helpful. overall great experience and would definitely stay here again!!!
Property Manager Response:
We are beyond thrilled that you loved this amazing home as much as we do! It is the perfect place for a beach getaway. It sounds like you all had the best time. We look forward to having you back soon!
October 2016 Stay
Rating:
Our group had a wonderful time! The house was very nice. The WiFi was spotty in some places so maybe a bigger router to cover the whole house, but other than that we had no complaints. Loved the location and close walk to the beach. Also absolutely LOVED the view! This panorama shot is from the top level of the house and was beautiful to just go up there and look out onto the ocean! Thanks 360Blue we had a wonderful vacation!
Property Manager Response:
That view is beautiful, can't beat it! We couldn't be happier that you and your party had such a good time. Thank you for staying with 360 Blue and we hope to have you back again soon!
October 2016 Stay
Rating:
We had a great stay, loved the area and short distance to the beach. The house was nice but we had a few issues...the kitchen was not stocked, had no toaster had to go buy one the wifi didn't work well, and the grill was very dirty and almost started a fire outside which looked like someone had the same problem before because the window and ground were burnt. Overall we liked the house and will definitely stay in the area again in a 360 Blue property!
Property Manager Response:
Thank you for your valuable feedback. We always appreciate the opportunity to continue to improve. We are looking into all of these issues so that we can take the necessary steps to ensure that they do not arise again. In the future, please do not hesitate to notify us of any issues that you may find. We are happy to remedy them while you are here with us. We look forward to having you back soon!
September 2016 Stay
Rating:
Great stay! Close to the beach. We will definitely stay in a 360 Blue rental again!! Had a small issue at the beginning of our week, and they addressed it immediately. The guy who came out was very prompt and personable. We already miss the beach!
Property Manager Response:
We are so thrilled that you had such a wonderful stay and we are beyond blessed to have some of the best employees around! We look forward to your next stay!
Bray Family Renunion
Rating:
Our family of 30 enjoyed our stay at your beach house. It was a very good location. Really appreciated the elevators. The kitchens could use more pots and pans. The grills flared up and probably should not be on the porches. The house was very comfortable. The family enjoyed the pool. Thanks for an opportunity for our immediate family to vacation together.
Manager Response:
Thank you so much for the feedback on kitchen supplies and the grills. We will have both looked at right away. We are so happy to hear that you loved this home. The location is second to none and the views are amazing! Thank you for choosing 360 Blue. We look forward to having you back soon!
June 2016 Stay
Rating:
Our first entire family vacation at your lovely beach home. Couldn't have wished for a better location very close to the beach. Lots of room space for our family. Concerns with the wifi we called the first day but decided to focus more on our views the rest of the days as it wasn't that important. I agree that the pots need sprucing, we always bring our large pots as we aren't ever sure about the quality of the pots at each home. We loved the pool, we requested it be cleaned and it was done. Awesome response time from 360 each time we had a concern. We would love to stay again. Thanks for sharing your home.
Property Manager Response:
Thanks for sharing your family vacation with us, Buck Family. We're glad your whole family could share in the experience! We hope you will stay with us again in the future.
McBride June 2016 Stay
Rating:
Love the size and rooms. Plenty of space for everyone. Ac worked great. Service from 360 blue was phenomenal, requested service twice and they were very attentive and quick! Wish there was a better selection of pots and pans, items here are in bad shape and worn out. Grill needs a good cleaning, kept flaring up. Another wish was to know more about the turf war over private beaches. Should be better explained. The dunes condos next door were not very nice and kept setting chairs up before we could set up. The chair company providing the chairs and umbrella were super nice and helped when possible. Would still highly recommend, and the area is great and very family friendly.
Property Manager Response:
We are so happy to hear that you had such a great time despite a couple issues. This really is a great home in a wonderful location. I am letting the property manager know about your feedback on the kitchen supplies and grill so that we can have those addressed. I am so sorry that you had issues with the neighboring beach service. We will contact them to make sure that everyone is being accommodating. Thank you for choosing 360 Blue, we hope to have you back again soon!
March 2016 Stay
Rating:
Our group thoroughly enjoyed our stay. We had a group of teenagers and parents. The kids loved the pool area and we had plenty of room to spread out in the rooms and living areas. The house is well kept with nice furnishings and a fully equipped kitchen.
Property Manager Response:
Great photo! Looks like your group had a lot of fun. Thank you so much for choosing 360 Blue for your beach getaway and for taking a moment to share your experience. We are so glad to hear that you enjoyed the home and we hope to see you back at the beach soon!
September 2015 Stay
Rating: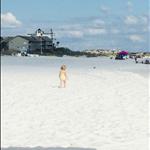 We had a wonderful time staying in your beautiful home! Thank you for opening your home to allow us to rent!
Property Manager Response:
That picture is precious! We are happy you enjoyed your 360 Blue experience and this fantastic property. Please let us know when you are ready to plan your next getaway.
July 2015 Stay
Rating: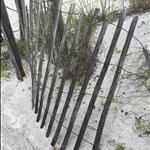 We loved the location of this property! We did misinterpret the top floor sleeping space as being seperate from the kitchen but it's not. We had issues with the AC but the concierge group was very responsive and all was fixed quickly. Several chairs had a loose leg and the kitchen had subpar knives and pots but we could not hear a sound from the neighbors and the linens and pillows were great. Our big issue was this: we rented beach chairs and umbrellas from 360 Blue and had THE nicest guys setting up our chairs each day. But, the Shades company who was also setting up chairs consistently moved our chairs to behind theirs. Our guys had to fix our chairs 3-4 times in a week. There is a beach chair turf war and the other guy (Shades) does not play fair.
Property Manager Response:
Thank you so much for the feedback! We are so happy you informed us of any maintenance issues as we're always here to help! We will take a look at the kitchen wares and replace or update anything in need. We're so sorry to hear there were troubles with another beach chair service. We will do whatever we can to prevent this from being an issue in the future. Thank you again for sharing and we hope to have all back!
July 2015 Stay
Rating:
We had a great stay at your beautiful home. Only had a few problems with a bike and the TV reception. The kids loved the pool and beach. We hated to leave but hope to be back
Property Manager Response:
Thank you Mixon Family for staying with us in Seagrove! We hate to see you go, but you'll have to plan another trip soon! Thanks again!
June 2015 Stay
Rating:
The home is beautiful and perfect for a large family. We spent every night up in the crows nest looking at the stars. 360 rental company was amazing by providing 2beach chairs and 4bikes!! One major caveat. The condo owners and houses on the beach are extremly terratorial. I got a serious scolding by two different owners. I like to put a tent up for my young children and was told to move it I could only line up with board walk behind other chairs plus our chairs were only allowed behind another compaies chairs. I will not be back. Ive never been scolding on vacation by 2 different adults in such an ugly manner!!!
Property Manager Response:
Aw, look at that happy face! Glad he got to enjoy some beach time despite the troubles with some other beach-goers! Some beaches have different rules and regulations on tents, but there are no restrictions on umbrellas! We'd love to have you back in the future, thank you!
May 2015 Stay
Rating: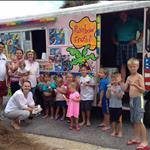 It is not easy getting a large family together. We live so many miles apart. We love getting our grandchildren together for memories and bonding time. This house was wonderful!!! We would go to the beach early in the morning then come back to take a warm shower then jump in the back yard pool. Although we had another unit rented else where no one wanted to leave this house. We absolutely loved staying in this house. PS We ate breakfast at the Donut Hut and loved the ice cream truck coming each day.
Property Manager Response:
Wow, they all look like happy campers! Can't beat the heat better than some delicious ice cream in hand! That is wonderful that you all had the opportunity to gather together as a family for vacation in Seagrove. This home is perfect for large groups or for a splash in the pool! We hope you and the whole family make another visit soon!
September 2014 Stay-156 Chivas Ln
Rating: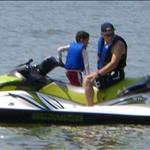 Wonderful home: close to beach, great views from up top, clean, plenty of room, great bedding and decor, and well stocked. We had a wonderful time in the home. Kids loved biking the cul-de-sac and adults liked the bikes provided. There were a couple of issues that could have been handled differently but overall a great vacation. We would definitely rent the home again and use the company again as well. Communication up front was great but got more challenging once you arrived. Again, the home was fantastic as was the pool. Two families (9 people) had plenty of space and made lots of great memories. Thank you.
Property Manager Response:
Hopefully you had the opportunity to see some dolphins out on the jet skis! Thank you for sharing such great memories with us. We are sorry to hear that communication was challenging upon your arrival. Your feedback is so important to us! We hope to have you back again!
September 2014 Stay
Rating: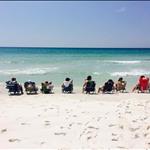 We had a wonderful stay at this beautiful house!!
Property Manager Response:
Love the photo! Thank you so much for choosing 360 Blue for your beach retreat! We are so thrilled to hear that you enjoyed your stay! Come back soon!
When you book a stay with 360 Blue, you get access to a world class vacation with the area's most extraordinary eco-tourism adventures and family friendly experiences. We have a variety of activities from half day to full day experiences and we've handpicked every detail – door to door luxury transportation, kid's camps, stand-up paddling adventures and much more! Book your perfect getaway then let our guest ambassadors help you plan your adventures!
Your request has been sent. We look forward to meeting all your vacation needs!