seagrove-beach-425-beachfront-trail
Seagrove Beach 425 Beachfront Trail | Santa Rosa Beach Vacation Rental
HOME HIGHLIGHTS:

- Beach access boardwalk is steps from home

- Roof Bar/ Party Room with big screen tv, bluetooth stereo speaker, seating for 22, gulf and lake views, half bath

- 8 adult bikes provided

- Shuffle Board & Ping Pong Table

- Private Pool **Pool heating is available for this property from October 1st through May 1st for $45 per day**

- Complimentary beach service : two beach chair set ups (includes 4 chairs and 2 umbrellas, March 1st through October 31st)

*Elevator currently not for guest use.

EXECUTIVE ACCESS: Guests staying at this 360 Blue property have access to limited golf tee times at Shark's Tooth and Camp Creek Golf Courses, the tennis courts at Shark's Tooth Club and complimentary use of two kayaks or canoes for one hour per day, as well as 20% off stand up paddle boards at the WaterColor Boathouse.

LOCATION: This home is steps away from nearest boardwalk.

DETAILS: As one of the largest houses on the 360 Blue program topping 8,400 square feet, 425 Beachfront Trail has enough space to accommodate up to 35 people…and then some! With much of the first floor space composed of garage space and an entry floor, the second floor lends itself to a large foyer area and gallery opening to a den and four bedrooms. A desirable amenity of the home is the French doors leading out to the elevated 2nd floor pool. Complete with a wet bar and vast deck space, it's easy to lose track of time lounging the day away!

While there is plenty of room for guests to spread out, it's no surprise that the third floor open concept living room and gourmet kitchen are the heart of the home, bringing everyone back together. The living and dining room are perfect for entertaining as they open to a beautiful covered porch with additional dining space. The third floor also includes three more bedrooms.

As if this home couldn't get any bigger (or taller), the fourth floor is comprised of the master suite with private balcony and views of both the gulf and lake.

As one might expect, 425 Beachfront Trail is full of amenities like Gulf and lake views, easy beach access, expansive porches, private pool, and ample parking making this one of the most desirable homes on the 360 Blue program.

SLEEPING ARRANGEMENTS (Sleeps 35):

FIRST FLOOR:

- Bunk Room: 1 Twin over Twin Bunk, 4 Twin over Queen Bunks, Private Bathroom with Shower only

SECOND FLOOR:

- Master Bedroom: King Bed, Private Bathroom with Shower Only

- Master Bedroom: King Bed, Private Bathroom with Shower/Tub Combo

- Guest Bedroom: Queen Bed, Private Bathroom with Shower Only

- Bunk Room: 3 Twin over Queen Bunk Beds, Private Bathroom with Shower Only

THIRD FLOOR:

- Master Bedroom: King Bed, Private Bathroom with Shower/Tub Combo

- Master Bedroom: King Bed, Private Bathroom with Shower Only

- Guest Bedroom: 2 Queen Beds, Private Bathroom with Shower Only

FOURTH FLOOR:

- Master Bedroom: King Bed, Private Bathroom with Separate Shower and Garden Tub

OTHER AMENITIES INCLUDE: 8 adult bikes provided, beach access, private pool. This property comes with 5 dedicated parking spots. Complete Clean Linen Participant - ALL linens, including comforters laundered upon every checkout.

360 BLUE STAFF & SERVICES: Exclusive Guest Experiences, Concierge Services, Grocery Delivery, Private Chef & More (Extra costs & advanced notice may be required)
Beach Chairs & Umbrella(s)
Thank you for entering your review. The review will become available to the system shortly.
December 2018 Stay
Rating:
We absolutely loved the house. all 9 families had personal space. We congregated in the main living dining and sitting rooom. We did encounter several issues: The thermostat on the heating needed adjusting, The Internet connection was not working: after a heavy rain, the swimming pool overflowed and water went into the bottom level of the house. And finally, we had questions about the thermostat control on the refrigerator. With these issues, maintenance was prompt and came to correct and restore the situation. Several things were not resolved during our stay,however:: The garbage cans, in constant use in the kitchen, were off the Track . Though listed among amenities, there was no DVD . Although emergency after hours maintenance came to take care of the flooding downstairs ,they failEd to replace the towels we gave them to soak up the water. Despite these aggravations, we would return to this house in a minute. 360 properties is extremely professional and efficient.
Property Manager Response:
We are so glad that you all enjoyed your stay with us in Seagrove! We deeply apologize for the frustration felt during your stay in regards to a few maintenance issues. We are happy to know that our team was able to correct this for you during your stay in a prompt and efficient manner. In regards to the issues not resolved during your stay, we are happy to announce that our team was able to go to the home and correct everything you have listed making this home perfect for any and all guests. Thank you for your feedback and for staying with 360 Blue, we hope to see you again soon!
November 2018 Stay
Rating:
Bob & Sally Buck + 18 parents, children, grandchildren, siblings, nieces, nephews (2 could not make it) The 360 Blue concierge service was very good as we needed it more than anticipated. The house was laid out fine and the location was good. However, more QA/QC needs to be implemented for the quality of property that we expected. No one has looked at the septic tank for a very long time as it backed up the 2nd day and caused a major inconvenience and mess. 2 sinks did not drain and had to have hair removed. Many more were slow, and they all need to be checked. We replaced the can opener and kitchen shears the 1st day as they were both broken and very cheap. There was only 1 trash can with a lid and it was full upon our arrival. The other 8 cans had no lids and we only filled them up half way and put another can on top. Still had to pick up racoon debris twice. The bikes were not maintained and we oiled. 360 Blue helped with those issues we could not fix. Despite issues, still a favorable exper
Property Manager Response:
We are so glad that despite a few bumps in the road you all enjoyed your stay with us in Seagrove! We will be sure to share your feedback with our entire team to rectify everything you have mentioned. Thank you for staying with 360 Blue, we hope to see you again soon!
Moms Weekend Get Away!
Rating:
This house was beautiful! Very nicely decorated with ample space for a multitude of activities. The great areas in the kitchen, dining and rooftop bar were perfect for lots of guest interactions. The AC in the house was nice and cold, kinda important for big groups esp. during the summer months. However there was a slight damp scent which perhaps is due to the proximity to the ocean, maybe some vent cleaning is in order? WE LOVED THE ICE MAKER! It was heavily used all weekend. So great. I stayed in the bunk room downstairs. The beds were so comfortable! That is a large room that can sleep up 14 but weirdly the bathroom had no hooks or shelves for wet towels and bathing suits. It would be great to add some additional storage, shelves and hooks in the bathroom. With that may people (probably often kids) it really needs those details. The pool was a wonderful gathering space and we used the blue tooth speakers that came with the house. Would be nice if there was another set up in the great room / kitchen area. The house looks very similar to the pictures except it is showing a bit of wear. Understandable on a house this size that can accommodate so many people. Many of us used the bikes and the out door area to shower off after the beach. The grill night was a success thanks to the grill right off the kitchen. We loved having the 2 refrigerators which made storing our food and drinks very convenient. Especially the one right off the unloading area. The very short walk to the beach was a breeze using the wooden boardwalks. We brought our own beach wagons which were very helpful to have. Maybe the house can supply 1 or 2 of those so guests that are flying into the area (many of use drove) have an easier time of bringing all the their stuff to the beach. All in all this was a BEAUTIFUL home, lots of amenities, and space that made it very comfy to create a life time of memories.
Manager Response:
We are beyond thrilled to hear that you enjoyed your stay in this amazing home. It is truly the perfect place for a famiy beach getaway with everything you need for the perfect vacation. We hope to see you back soon!
August 2018 Stay
Rating:
The pictures of this house do not do it justice! We loved it! We had a group of 6 families (12 adults and 8 kids all under 5). Everyone loved the house and said they would book it again - and we can be a tough crowd to please. The kitchen area was larger than I expected with a large common area right next to the kitchen with couches. The rooftop deck also exceeded our expectations. All of the bedrooms are nicely spread out throughout the house and on each floor, including a bunk room in the basement. There was plenty of room for our group to be in the same house but not feel crowded. There are 2 coffee pots provided. A large fridge in the kitchen with 2 bays for refrigeration and one bay for a freezer. There was an additional refrigerator in the basement. There were occasional bugs and parts broken in the house (one cabinet in the kitchen was broken) but we expected this in any rental house in Florida. The 360 blue team had wonderful customer service. They quickly responded to all our requests.
Property Manager Response:
We are thrilled the home exceeded your expectations! It truly is beautiful and perfect for large families! We are so grateful that you stayed with 360 Blue and we can't wait to have you back at the beach again soon!
July 2018 Stay
Rating:
The house was very spacious and nice for our large group of 35! The distance to the beach was just across and easy access. The distance to Seaside is actually a bit far and did not have much opportunity to explore, I would stay closer next time. There were a few things that would need a bit more attention and that would be the Wi-Fi was not accessible and only in the kitchen area. There were a few cockroaches around the house and kids were not too fond, especially in their bedroom. The 4th level, was always humid and not cool as to the rest of the house. The house is nice but I was a bit disappointed it was not as clean as expected. I believe a good dust here and there and stain removal on chairs would need more attention. Overall we all had a great time and great house.
Property Manager Response:
We are glad that you and your group enjoyed your stay with us in Seagrove! We agree that this home is a wonderful option for larger groups and families. We do apologize for the issues you experienced during your stay and we will share your valuable feedback with our team to correct this for future guests. We hope to see you again very soon!
Capers Family Trip 2018
LONDON ENGLAND-LEWIS / JAMAL LEWIS
Rating:
This trip was the beginning of what will soon be an annual tradition to honor our grandmother Maggie Mae Capers...and 425 Beachfront Trail definitely did not disappoint. We had a total of 37 (2 children under 3 included), but the space was perfect for everyone. We literally made use of every space in this house available, from the hammock on the front porch to the crows nest above the upper bar area (be sure to catch a sunset from up there). We were mindful from other reviews about the grumpy neighbor, but we had no issues...even with teenagers playing their music by the pool. The bikes were a nice touch, as well as that ice machine!! This house was the second time MY family (immediate; party of 5) has used 360Blue. Pelican Circle was amazing...but Beachfront Trail definitely overshadows it (mainly the size of it). The walk to the beach was a short one and the views from the upper levels of the house were amazing. There was an issue with a circuit breaker that tripped and we couldn\'t get to the breaker because it was in a locked room, but 360Blue immediately sent someone over to fix it...and while he was there, he also fixed one of the door alarms to the pool that kept falling off (too much traffic). Overall, everyone enjoyed themselves and ultimately no one wanted to leave, but 425 gives us something to look forward to for next year. Thanks again to everyone at 360Blue...you were amazing!!!
Manager Response:
We could not agree with you more about this incredible home. We are so thrilled that you enjoyed your stay! It is truly everything you said and more. We loved having you with us and hope to see you back soon!
March 2018 Stay
Rating:
We overall had a great time here! We took 7 families ... lots of kids and lots of adults. The good Space is amazing. Tons of room for everyone The beach access can't be beat. Literally 2 min walk. Very clean & pretty The bad The pool & hot tub never worked right The ice maker never worked The neighbor hates noise and came onto the property multiple times (one time at 7:30 while our kids were laughing and eating dinner) 360 was great to work with and attempted to fix all the issues (there is not much they can do about the very grumpy old man who lives next door) Honestly we'd rent from 360 again, but I am not sure we'd go back to this house. Namely the pool & neighbor issue.
Property Manager Response:
We are so excited to hear that you had such a great time! This home is perfect for large families due to it's spacious layout and design. There is something for all ages, with the beach access so close and the pool being right out your back door. We apologize for the neighbor and encourage as much laughter as possible! The pool and the icemaker have both been fixed, and we are very sorry that you experienced troubles with these things during your time here. It was our pleasure to get your issues resolved as quickly as possible and provide you with great service. We hope you will come back and stay with us again soon!
March 2018 Stay
Rating:
Loved it! Great place, great location. Beautiful house!
Property Manager Response:
We are so happy your enjoyed this amazing home for your beach getaway. We hope to see you back soon!
July 2017 Stay
Rating:
This is the first time we have stayed down here and it was great!! You are in the middle of both Destin Florida and panama city beach on either side with just a 15-30 drive to both! For sure will be back!!
Property Manager Response:
What a gorgeous picture! You truly captured the beauty of sunsets on 30A! We are delighted to hear that you enjoyed your stay with us in Seagrove Beach so thoroughly! Thank you for choosing 360 Blue and for taking a moment to share your experience with us! Be sure to visit again soon!
June 2017 Stay
Rating: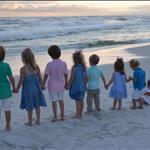 My husband and I brought our 6 grown children and their families to your home for our family vacation and it was absolutely PERFECT!!!! There are 22 of us including 6 children ages 6 to one year! We even celebrated baby Olivia's one year bday while there!!! For the first time ever, we found the perfect place for our family with room to spare! We had so much fun cooking in most nights---your kitchen, Tv room and outside deck couldn't have been better for all of us! And the roof top bar is amazing!!!! We will be back for sure---hoping to rent your home next summer if it's available!!! (The only problem was with the pool/hot tub---which I know you are aware of.) But despite that one issue, we had the perfect week!!! Thanks you!!!
Property Manager Response:
What an adorable photo! We are beyond happy that your family loved this beautiful home as much as we do. The issue with the pool has since been remedied and we are so relieved that you still has such a great time. We are looking forward to seeing you again next year!
April 2017 Stay
Rating:
This is an amazing house and perfect to share with more than one family. No detail was overlooked in building this home -everything you need is there. All of the rooms are beautiful and we loved the kitchen and dining spaces. In the morning we had coffee on one of the many outdoor decks and ended our evening with beautiful views from the roof top bar. The beach boardwalk is steps away and the chair/umbrella set up was wonderful. We enjoyed the lovely beach everyday and then the pool later on. The location is great and we were able to bike for donuts, gourmet popsicles, and lunch. The older kids loved biking to the nearby seaside towns. 360 Blue was a pleasure to deal with and were in contact with us before, during and after our stay to make sure we had everything we needed. It was a GREAT vacation and I would love to stay here again!
Property Manager Response:
What a gorgeous family group! We love seeing those smiling and happy faces, and are so pleased your family enjoyed the house and area so much. We're glad you could check out Seaside, it's definitely a must visit! Thank you for choosing 360 Blue for your family getaway. Come back to visit with us soon!
April 2017 Stay
Rating:
24 High School Seniors, 9 adult Chaperones and 1 sixth grade Butler celebrated the impending 2017 graduation by spending a week at Seagrove 425. A great time for everyone with plenty of space, great food and great weather. We would come back in a second.
Property Manager Response:
Looks like the perfect beach day. We are so excited you and your family had such a great spring break! Congratulations to the soon to be graduates! Thank you for staying with 360 Blue and we hope to have you back again soon!
December 2016 Stay
Rating:
Guys golf trip. What a great place. Hot tub is huge. The roof bar is great for hanging out. Nice golf courses in area. Favorite thing was the ice machine.
Property Manager Response:
We are thrilled to hear you had such a wonderful time in this amazing home. The rooftop bar is an amazing space. We hope to have you all back soon!
November 2016 Stay
Rating:
We were 24 strong for a family reunion Thanskgiving. Great House, nice quiet gated street, easy beach access and fun was had by all - from 1 year old to 80 year old. Beautiful marsh behind House. We loved 425 Beachfront Trail.
Property Manager Response:
We are thrilled that you had such a wonderful stay! What an amazing way to spend the holidays! We loved having you with us and hope to have you all back soon!
October 2016 Stay
Rating:
This house was amazing! It was spacious enough to accommodate our group of 19 perfectly. The proximity to the beach was great and we loved the size of the pool. The outdoor living spaces and large kitchen were put to good use. 360 Blue was great to work with. We had a few new construction issues that were promptly responded to. We would definitely stay at this house again and hope to be back soon.
Property Manager Response:
What a beautiful family photo! We are thrilled that you had such a wonderful time! Thank you for choosing to stay with 360 Blue and we hope to have you back at the beach again soon!
September 2016 Stay
Rating:
My family of eleven couldn't bare to leave this gorgeous home and perfect little beach. 360 made it a breeze to just unpack and unwind as they offer not only a gift basket or two to help welcome my family but also a grocery service so we didn't have to waste our vacation shopping for food. The beach only being a walk away was such a treat as well as having complimentary chairs and umbrella waiting for you. When we weren't at the beach we enjoyed cooling off in the pool and lounging in the main family room. I honestly cannot say enough about this home. Without a doubt, my entire family had the most wonderful and perfect vacation!! We look forward to renting this home again and any home 360 offers!
Property Manager Response:
It makes our hearts so happy to hear this. We love that you had such an amazing stay with your family. We truly enjoyed having you with us and we hope to see you all back very soon!