villa-coyaba-108-3016-scenic-highway-98
Villa Coyaba 108 - 3016 Scenic Highway 98
HOME HIGHLIGHTS:

- Unlimited number of 360 Blue 26" Adult Bike rentals during your stay

- Complimentary beach set up each morning which includes: 2 beach chairs with an umbrella (Service will be provided March 1 - October 31st)

- 10 ft. ceilings throughout

- Master Bathroom has a 6 foot Jacuzzi tub and shower

- Viking appliances

- Granite countertops

- Gas cooktop

- Marble floors

- Ice machine for the beach cooler

- Theater Surround System in Living Room with 50 inch Plasma TV

- Whole Home Audio System for entertaining with speakers in every room

- Flat Panel LCD Televisions with built in DVD players in all the bedrooms

- Complete Clean Linen Participant - ALL linens, including comforters, laundered upon every checkout

EXECUTIVE ACCESS: Guests staying at this 360 Blue property have access to limited golf tee times at Shark's Tooth and Camp Creek Golf Courses, the tennis courts at Shark's Tooth Club and complimentary use of two kayaks or canoes for one hour per day, as well as 20% off stand up paddle boards at the WaterColor Boathouse.

LOCATION: This home is located steps from the beach.

DETAILS:

FIRST FLOOR - CORNER UNIT with a fireplace. This fabulous unit has direct access to the beach from the Master Bedroom and Living Room and is 30 feet above sea level! No need to haul your beach stuff down the elevator and hallway, simply walk out your door. Plus the end units at Villa Coyaba have windows throughout the living room and 2 guest bedrooms that interior units do not, creating an INCREDIBLE PANORAMIC WESTERN GULF VIEW!



SLEEPING ARRANGEMENTS (Sleeps 10):

- Master Bedroom: King Bed, Private Bathroom With Separate Shower and Tub

- Guest Bedroom: King Bed, Shared Hallway Bathroom With Shower/Tub Combo

- Guest Bedroom: King Bed, Shared Jack and Jill Bathroom With Shower/Tub Combo

- Guest Bedroom: 2 Queen Beds, Shared Jack and Jill Bathroom With Shower/Tub Combo

VILLA COYABA HIGHLIGHTS:

- Only 34 units with 310 feet of private white, sandy beach

- Gulf-front, Infinity-Edge **Pool heated from October 1st through April 1st**

- Fitness Center

- Dedicated underground private parking

- Near Destin's world famous harbor and fantastic shopping and dining venues

AMENITIES INCLUDE: Unlimited adult bikes provided, gourmet kitchen, beach access. This property comes with 2 dedicated parking spots. Complete Clean Linen Participant - ALL linens, including comforters laundered upon every checkout.

360 BLUE STAFF & SERVICES: Exclusive Guest Experiences, Concierge Services, Grocery Delivery, Private Chef & More (Extra costs & advanced notice may be required)

Weddings are not allowed at this home. If this policy is violated, you may be asked to vacate the property and forfeit any rental payments as well as be subject to HOA, community and 360 Blue fines.
Beach Chairs & Umbrella(s)

Long-term Renters Welcome
Thank you for entering your review. The review will become available to the system shortly.
December 2017 Stay
Rating: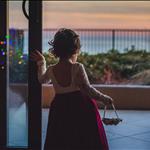 Our daughter and her family (military) recently moved to Niceville from AZ. We know that her husband will be deployed this year so a lot of family members from NJ, PA, TX and GA wanted to come to FL to spend Christmas with them. Since she did not have enough room for all of us, we rented the condo. My husband and I, our son, our other daughter, her husband and our 20 month old granddaughter stayed in the condo. It worked out fantastic! It was in a great location (close to the Mid Bay Bridge and Niceville). We cooked a lot of meals at the condo, would have all the family over to eat and then walk on the beach. We played cards on the patio, swam in the nice warm pool, saw dolphins & a very cool stingray, watched every gorgeous sunset and later the moonrise. With a baby in the condo, we also got to watch every beautiful sunrise! We loved that it was an end unit on the ground level with a nice patio area. The views were absolutely gorgeous. We look forward to renting this lovely condo again in the future!
Property Manager Response:
What a beautiful and festive picture of your granddaughter! It sounds like you all made some wonderful holiday memories. A huge thank you from us to your son-in-law for his service! Villa Coyaba is in the most wonderful Destin spot, we agree. Cooking in the spacious kitchen is fun for the whole family, and there are plenty of restaurant options nearby if eating out is what you prefer. With the beach access being so convenient, a walk on the beach in the evening to end the day is a necessity. The beachfront patios are wonderful for dolphin and wildlife watching, as well as viewing those amazing sunrises and sunsets! The views at Villa Coyaba are second to none. We can't wait to have you back again!
September 2017 Stay
Rating:
This was the 2nd time we did a girls trip to Destin and the Villa Coyaba property. This unit was different than our first but also very nice. The location, pool, and access to the beach are outstanding. The 360 Blue management was very responsive and everyone was extremely nice. We absolutely loved our time there and can't wait to do it again!
Property Manager Response:
What a fun photo! It looks like you got to enjoy some perfect beach weather during your stay with us! We are delighted to hear that you enjoyed your stay with us, and the property so much! Thank you for choosing 360 Blue for your girl's trip, and taking a moment to share your experience with us. We hope to see you back again next year!
June 2017 Stay
Rating: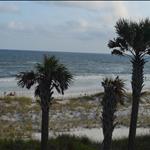 We had a great family vacation here! The condo was very spacious and met our needs perfectly. We loved the location of our condo. It was close to everything. It had great beach access and a nice pool. We loved the convenience of having the 2 beach chairs and umbrella reserved on the beach for us everyday.The only thing we didn't like was the number of visitor parking spots available in the parking garage. We had 3 vehicles and only 2 parking spots. We had a difficult time getting a spot for our third vehicle. Once a spot opened up we grabbed it and left that vehicle there for the entire week! All things considered, that was not a big problem. We had an amazing time on the beach and enjoyed our family time.The property management people were very nice and helpful and called to check on us several times. I would recommend this place to anyone coming to Destin and would stay here again if we ever come back.
Property Manager Response:
What a beautiful view. We are elated that you had such a wonderful time in this amazing home. It is the perfect place for a beach getaway. We hope to have you back soon!
June 2017 Stay
Rating:
We had a great stay at this condo. Plenty of room, great beds, icemaker, and great pool!
Property Manager Response:
Looks like everyone is having a great time. We are elated to hear that you had such a wonderful stay in this beautiful home. Thank you for choosing 360 Blue, we hope to have you back soon!
May 2017 Stay
Rating:
This place is perfect and has everything you could need. We are already planning our trip for next year. Clean linens. Nice appliances. Great outdoor furniture and patio. We had six little kids so the first floor was wonderful. Will recommend this place to everyone!!
Property Manager Response:
Those pictures are absolutely adorable! We love to see all those happy, smiling faces! We are thrilled to hear that the home was perfect for your group, and that you enjoyed your stay with us so much! Thank you for choosing 360 Blue for your beach escape, and for taking the time to share your experience! Be sure to come back and visit us soon!
Family Vacation 2017
Rating:
Wonderful week spent with the whole family at this beautiful condo. This was our fourth year at Villa Coyaba and it was perfect! The condo had everything we needed. We love staying her and #108 on the bottom floor is great with the grandkids. The beach was perfect and the water was clear and beautiful! We had a fun week celebrating and being together!!
Property Manager Response:
Such a picture perfect family photo and looks like it was an amazing day for the beach! We are so happy you and your beautiful family had such a wonderful and memorable vacation in Villa Coyaba! Thank you for staying with 360 Blue and be sure to come back and visit us again soon!
April 2017 Stay
Rating:
Possibly our best spring break ever! Condo exceeded our expectations in every way...location of building is convenient to everything, location of unit can't be beat! Ice maker built in to the cabinets was my favorite appliance...we never ran out of ice for our coolers! All beds were incredibly comfortable and the bedrooms very quiet. Beach service was terrific and utilized every day due to the phenomenal weather. Teens loved the bikes and rode every day on the flat, paved walkways overlooking the beach along Scenic 98. Evenings were spent playing cards on the patio watching the ocean and the sunset and listening to the waves. Lots of fond memories made on this trip!
Property Manager Response:
What a fun photo! We're so glad you enjoyed the use of the beach chair set and bikes! It sounds like you guys made some great memories that will be treasured forever. Thank you for choosing 360 Blue for you family getaway. We hope you'll come back and make more memories with us soon!
October 2016 Stay
Rating:
We had a fantastic week. We loved all aspects of our Condo - Amenities, pool, grilling station, access to beach with UI umbrella/beach chairs. We came away very impressed and plan to rebook again for next year!
Property Manager Response:
We are so happy that you had such a wonderful stay. This condo really does provide everything you need for the perfect beach vacation. Thank you for choosing 360 Blue, we hope to have you back soon!
August 2016 Stay
Rating:
We had a great time. The condo was beautiful and super convenient to everything. Overall we had a fantastic week at this condo.
Property Manager Response:
Villa Coyaba has such amazing views of the gulf and this photo is proof! We are so happy that you and your family had such a wonderful stay. Thank you so much for staying with 360 Blue and be sure to come and visit us again soon!
July 2016 Stay
Rating:
We have been coming to VC 108 for at least 7 yrs w/ 3 generations for one stay then two a Summer. Sadly with one payor for the rising costs we are getting priced out. I know someone will pay but with more builds and desiring family atmosphere $ aren't everything. We have seen the entrepreneurs and staff grow and respect there help and friendliness. We've only stayed in any other unit there once and love the location and end unit w/ underground parking. This time the family or type of grp atmosphere seemed to be changing some for the worse. The unit was dirty as it always is around and on furniture and floors. We know the turn around time for cleaning crew is tremendous and tried to be encouraging on departure. We would back in a heartbeat if prices more manageable.
Property Manager Response:
We are so sorry that you had some cleaning concerns upon arrival. We appreciate you letting us know and we will be sure to follow up with out housekeeping team so that it does not happen again. We hope to see you all back soon!
July 2016 Stay
Rating:
We love Villa Coyaba and have stayed there several times! The units are beautiful, spacious and perfectly located. When we first arrived, we found several areas were left very dirty: the kitchen overall and the tile floors throughout. We contacted the manager and the situation was dealt with quickly. We want to give a special call-out to Deanna and Joey (Cal's Custom Cleaning) who promptly came the next morning and did a superb job re-cleaning. They were courteous, professional and surpassed our expectations. We had a wonderful week and plan to return in 2017.
Property Manager Response:
What a great picture! We are so glad you guys had a great experience during vacation. Let us know when you are ready to book your next vacation and we will be happy to assist you!
May 2016 Stay
Rating: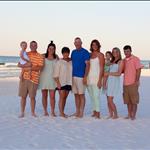 This was our third year to take a family vacation the first week of May. Our second at Villa Coyaba. We have 9 in our group including two toddlers boys under age 2. Villa Coyaba is wonderful. We did not have any problems. Love the corner room. It was beautiful and very comfortable. The weather was wonderful. I have never seen the ocean so clear and beautiful. The boys loved the patio pushing their trucks and toys around. Our oldest daughter got engaged on this trip so it will be an extra special place for us. We will definiately be back!
Property Manager Response:
What a beautiful family photo! One that you will remember for years to come! Villa Coyaba is such a wonderful place and you can't beat the crystal clear water! Congratulations to your daughter on her engagement and we are so happy for your family! Thank you for staying with 360 Blue and we can't wait to have you back again!
November 2015 Stay
Rating: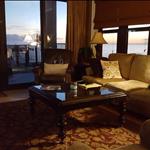 Villa Coyaba has been home for us in November for past 5 years and overall last 10 years. 108 is such a perfect fit and firnishings make us feel right at home. The end unit is perfect for letting the outside vews surround you. We will be back and hope to stay in this beautiful unit again. Until next year...cheers!
Property Manager Response:
We absolutely love having you back year after year to this beautiful beachfront condo! Happy Holidays from our family to yours, thank you!
September 2015 Stay
Rating: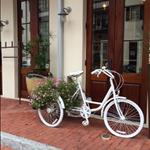 We have stayed at Villa Coyaba 108 for the last five years. It is a girls week with our Moms. The location is perfect to allow our mothers the option of sitting on the patio or walking down and enjoying the beach. The staff at 360 that are on duty address issues promptly. I would like to make the owners aware of a few things we noticed this stay. The tile floors really need to be deep cleaned my mother walked from her bedroom to the den and her feet were black. The carpets seem to need cleaning.The smoke alarm seems to be a little sensitive it would go off with the smallest amount of smoke. I know these are small issues and did not stop us from enjoying our week at the beach because we have a hold on the condo for the same week next year. Thank you for a lovely week!!
Property Manager Response:
We are thrilled that you have made this property part of your family tradition! We are currently in the process of having deep cleans done at this unit and it will be in tip top shape for you next year!
August 2015 Stay
Rating: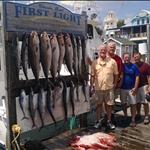 We had a great week in destin fishing and playing golf. Unfortunately, several problems came up in the condo. The garbage disposal went on the blink and had to be replaced. This led to the dishwasher not working. Lastly, the smoke alarms would go off incessantly with any bit of cooking, even making a piece of toast. This was a trip with three of my business partners so all of this was embarrassment for me. I talked to a manager at 360 blue properties. She apologized and said she would wave the cleaning fee and confirm this via email. That has not happened. So overall, kind of disappointed.
Property Manager Response:
Wow, looks like a successful fishing excursion! We're greatly sorry for these inconveniences during your stay, but thank you for reporting and giving us the chance to resolve while you were in town. Our maintenance teams successfully repaired the disposal as well as the dishwasher. We have also assessed the smoke detectors. Again we apologize for these hiccups and appreciate your patience with us while we resolved these issues. We do have a process for credits and apologize for any delay. Thank you again for your patience!
When you book a stay with 360 Blue, you get access to a world class vacation with the area's most extraordinary eco-tourism adventures and family friendly experiences. We have a variety of activities from half day to full day experiences and we've handpicked every detail – door to door luxury transportation, kid's camps, stand-up paddling adventures and much more! Book your perfect getaway then let our guest ambassadors help you plan your adventures!
Your request has been sent. We look forward to meeting all your vacation needs!