watercolor-26-mist-flower-lane
WaterColor "Summer House Memory" 26 Mist Flower Lane
HOME HIGHLIGHTS:

- Located in WaterColor's Lake District

- Short bike ride to Camp Watercolor, Western Lake, and Cerulean Park

- Open concept kitchen, living room, and dining room

- Kitchen equipped with high ceilings, granite countertops, and high-end appliances

- Sitting area with natural gas fireplace

- Spacious and high-end bathrooms

- Outdoor grill

- 3 dedicated parking spots with additional parking found throughout the community

- 5 adult bikes provided

- Complete Clean Linen Participant – ALL linens, including comforters, laundered upon every checkout

* Smoking is not permitted at this property

* Pets are not permitted at this property

Guests staying in WaterColor will have access to the newly expanded WaterColor Beach Club. It features a new main pool and lounge area, a second pool deck with additional lounge seating, a third pool with zero-entry, and an enhanced WaterColor Grill and new sunset bar.

DETAILS: 26 Mistflower is a gorgeous home in the sought-after Lake District of WaterColor, making this an unforgettable vacation location! This grand 5-bedroom 5.5-bath home is sure to please! With its massive rooms for entertaining, this will sure to be your perfect vacation retreat! After entering the home, you will be welcomed by the bright and airy great room with its comfortable furnishings, high ceilings, and gorgeous hardwood floors! You will also be able to enjoy meals from the home's fantastic kitchen! There, you will experience the high-end appliances, granite countertops, remarkable cabinetry, and the large island. This kitchen has all of the items needed to prepare that delicious meal! The spacious living room, well-appointed dining room, and fabulous kitchen are all included in this open floor plan for everyone to enjoy after a fun-filled day at the beach. What a perfect end to a perfect day! You will also find a primary king bedroom and connecting bathroom with double vanity, a glass shower, and a huge soaking tub on this floor. On the second floor, you will find two king bedrooms that have connecting bathrooms with single vanity and a tub and shower combo. There is a queen bedroom that has a connecting bathroom with double vanity and a glass shower. There is also a bunk room for all of the kids! There is another living area on the second floor as well! This house has an abundance of indoor and outdoor space, making for a truly great gathering spot for everyone to spend time together, making a memorable vacation! This spectacular WaterColor home is simply stunning and gives you the serenity you have been craving, and it is all here at one of the most beautiful beaches in the world!

SLEEPING ARRANGEMENTS (Sleeps 12):

FIRST FLOOR:

- Primary Bedroom: King Bed, Private Bathroom with Shower and Tub

SECOND FLOOR:

- Guest Bedroom: King Bed, Private Bathroom with Shower/Tub Combo

- Guest Bedroom: King Bed, Private Bathroom with Shower/Tub Combo

- Guest Bedroom: Queen Bed, Private Bathroom with Shower Only

- Bunk Room: Two Twin-over-Twin Bunk Beds, Shared Bathroom with Shower/Tub Combo

Weddings are not allowed at this home. If this policy is violated, you may be asked to vacate the property and forfeit any rental payments, as well as be subject to HOA, community, and 360 Blue fines.
Thank you for entering your review. The review will become available to the system shortly.
July 2021 Stay
Rating:
Highly recommend this property!it is ideal for large groups and plenty spacious enough to stretch out. The location is great to access Water Color amenities, but far enough away from the hustle and bustle of Seaside and 30a. This was a much needed reprieve for our family. Thank you so much for opening up up your lovely home to us!
May 2021 Stay
Rating:
We enjoyed the house. Very nice and clean. It did take a few days before we figured out how the doors lock. The key does not work from the outside lock either. Thanks so much.
Property Manager Response:
Pam, We love to hear that you enjoyed this home in WaterColor. We apologize that you had issues with the locks. We know that it can be inconvenient when dealing with these issues while on vacation, but our team is always here for you. Please know that we would be happy to send out a maintenance technician to take care of anything you come across that you are not completely satisfied with. We appreciate you choosing 360 Blue and hope to see you all again soon!
December 2019 Stay
Rating:
This house was fabulous! We loved the location and everything this house had offer. Internet is not good. You had to go to master bathroom to get good signal. The only reason I will not book for next year is the washing machine. The balance goes off no matter what you put in it. It is very very small and shakes uncontrollably. We had 2 infants and could not have the machine on while they slept upstairs. If you don't care about washing clothes this house is fabulous
Property Manager Response:
We are so glad that you enjoyed your vacation with us! In regards to the washing machine, our records show that we were notified of this before your departure and we were able to get that corrected for you. We have also corrected the issue with the internet! We do hope you will give this home another chance! Thank you for staying with 360 Blue, we hope to see you again soon!
Beautiful - fantastic place to stay. Convenient to bridge to get to beach
Rating:
We have stayed at different properties at Watercolor and absolutely loved this property. Some highlights: beautiful kitchen, very cool lights over the island (be sure to turn them on at night), separate icemaker, updated appliances. Living areas -- two separated areas on main floor with 2 different TVs, for gatherings of people with different interests. Upstairs, nice gathering space with TV. Bedrooms: all fantastic. Bathrooms -- updated, clean, spacious. Clarification on bedrooms -- the description I believe is outdated. The upstairs actually has a private bath for EACH adult bedroom (King and Queen rooms). The only bath that is not private (not connected directly to bedroom) is the bath for the Bunk Room., but it is still close by. Note also: There is no TV in any room except for the Master King on the main level, but there are a total of 3 TVs in the gathering rooms. We loved this home. Finally -- 360 Blue did a great job and I appreciate their help whenever we had a question, etc. Kimberly especially helpful.
Manager Response:
We are so delighted that you enjoyed your stay with us in Watercolor! We could not agree more that this home is the perfect place for everyone to come together and relax plus enjoy each others company. Thank you for joining us, we hope to host you all again soon!
May 2019 Stay
Rating:
Loved our eight nights with you, and so glad to be back to 360 Blue. You are the BEST to work with. We will for sure stick with you after three years at Sea Side and eleven at WaterColor. A true paradise!
Property Manager Response:
We are so happy to hear that you enjoyed your stay in WaterColor. We absolutely love the picture you provided of your family. Thank you for staying with 360 Blue and we look forward to seeing you all again soon!
March 2019 Stay
Rating:
Excellent home with everything provided for an excellent vacation. The house was within walking distance to 2 pools and also to the beach. We had 2 maintenance issues that were promptly addressed within 30 minutes of our phone call to the property manager. We requested early entrance due to having a young child and the staff was able to accommodate our request. I would definitely stay at this home again. Watercolor is a great family vacation spot and I highly recommend it.
Property Manager Response:
It sounds like you had truly amazing family getaway. We are thrilled that you enjoyed your stay in this beautiful home and we hope to see you back again soon!
December 2018 Stay
Rating:
26 Mist Flower is a nice and spacious home. It's conveniently located to all things you want to do in either Watercolor or Seaside. This is a super house for hosting and entertaining guests. However, the kitchen lacks some fundamental basics like a set of wine glasses that match. There are little to no serving pieces or baking dishes. We had to buy a casserole dish at Publix. The kitchen is very nice but completely under furnished with basic necessities. Just a note, there are no televisions in the bedrooms and we never were able to get the television in the master bedroom to work. I'm a loyal 360 customer and simply feel this house is not up to par based on what we paid for the week.
Property Manager Response:
We apologize for the issues experienced during your stay and we will be sure to share your valuable feedback with our entire team. We do agree that this home is in a perfect location and wonderful accommodates multiple people! Thank you for staying with 360 Blue, we hope to see you again soon!
August 2018 Stay
Rating: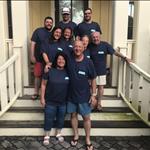 We were here to celebrate both mine and my husband's 60th birthdays! We were so impressed with the home we stayed in. It checked every item we were looking for--spacious, luxurious (yet comfy!), and in a great location. Having never been to WaterColor, we were so impressed. Can't wait til our next visit. We will definitely go thru 360 Blue. All aspects were fantastic--especially love the app!
Property Manager Response:
Happy belated birthdays to you both! We are thrilled you were able to make some wonderful memories in Watercolor! The home truly is a gem and we are so happy you and your family enjoyed it so much! Thank you for staying with 360 Blue and we can't wait to have you back again soon!
June 2018 Stay
Rating:
This was my first time to stay in Watercolor, though my son and his family had stayed before and loved it. We had a multigenerational vacation last week with 12 of us aged 3 to 72 in this wonderful house. It was so clean, spacious, nicely decorated, and well-provisioned - nothing was lacking! We were in a quiet section yet close to a pool and an easy bike ride to the beach. The house came with 5 bikes, which was great, but I did rent a three-wheel for my piece of mind. I got more exercise last week than I have in years, and it felt great! We made good use of the three living areas at night playing board games or video games or watching movies. The few times I had questions, the staff was prompt and friendly. Also, we used the beach shuttle a few times, and that was absolutely flawless. Thanks.
Property Manager Response:
We are beyond thrilled with how much you enjoyed your vacation! We agree that this home and the Watercolor community is one of the best! Exercise is always more enjoyable while on vacation anyways! We look forward to seeing you and your family again very soon!