watercolor-29-dandelion-drive
WaterColor 29 Dandelion Drive
HOME HIGHLIGHT:

- Location, Location, Location! - minutes from the Seaside Central Square

- 6 adult bikes provided

- Reverse Floorplan

- Short bike ride to the WaterColor Merchants and Boathouse

- Outdoor private shower for an after the beach clean

- Expansive porches on both levels perfect for morning coffee or outdoor dining.

- 2 swing beds on front porch

- Powder room on second floor

- Comfortable Living Room seating makes this space ideal for all ages.

- Fully equipped gourmet kitchen features stainless appliances, exquisite countertops

- Exclusive location in Watercolor's Cottage District

- Gas Grill

EXECUTIVE ACCESS: WaterColor guests staying at this 360 Blue property have complimentary access to 6 award winning community pools, the use of two kayaks for one hour per day, as well as 20% off stand up paddle boards at the WaterColor Boathouse and, for an additional cost, limited tee time access to award winning Shark's Tooth and Camp Creek Golf Courses, 20% off daily or weekly passes at the WaterColor Fitness Center and 2 tennis courts at both WaterColor and Shark's Tooth Club.

Guests staying in WaterColor will have access to the newly expanded WaterColor Beach Club. It features a new main pool and lounge area, second pool deck with additional lounge seating, and third pool with zero-entry, as well an enhanced WaterColor Grill, and new sunset bar, Costa Chica. All have scenic views of the Gulf of Mexico.

DETAILS: Located incredibly close in proximity to Seaside, this immaculate three-story, 6 bedroom, 5.5 bath WaterColor home will provide the getaway you have been looking for with its tranquil and peaceful wooded views over Western Lake from the back porch! Located across from the WaterColor tennis courts, 29 Dandelion Drive is a quiet, desirable street that is great for the kids to ride their bikes & scooters on without the worry of heavy traffic.

With its exceptional size and beautiful decor, this home is perfect for multiple families and sleeps 16 comfortably. Catch up with family on the front porch with a cup of coffee or if you're feeling active, walk, run or bike the WaterColor trail which passes right behind the home. Hosting is a breeze with the open living room and dining room located on the second floor. Guests will greatly enjoy relaxing on the expansive porches as well as exploring the area on the 360 Blue custom bikes provided. Enjoy all the nearby WaterColor featured offered, as well as a short bike ride to the Seaside Central Square and WaterColor Boathouse.

SLEEPING ARRANGEMENTS (Sleeps 15):

FIRST FLOOR:

- Guest Bedroom: Two Queen Beds, Shared Jack and Jill Bathroom

- Guest Bedroom: King Bed, Private Bathroom with Shower/Tub Combo, Patio Access

- Guest Bedroom: Queen Bed, Shared Jack and Jill Bathroom

SECOND FLOOR:

- Master Bedroom: King Bed, Private Bathroom with Separate Shower and Tub, Patio Access

- Half Bath

THIRD FLOOR:

- Kids Loft: Three Twin Beds, Private Bathroom

CARRIAGE HOUSE:

- King Bed, Private Bathroom

Weddings are not allowed at this home. If this policy is violated, you may be asked to vacate the property and forfeit any rental payments as well as be subject to HOA, community and 360 Blue fines.

Please note: Effective March 15, 2014, golf cart rentals in WaterColor must be made through The Electric Cart Company and will be limited to 60 vehicles throughout the community at any given time. Only one cart may be rented per home and rentals will be granted on a first-come, first-served basis.
Thank you for entering your review. The review will become available to the system shortly.
October 2019 Stay
Rating:
House was very nice and the location couldn't have been better. The Carriage House is spacious and just perfect. The kids enjoyed the privacy of the 3rd floor. We had planned for one child and three teenage boys to share the downstairs bedroom which seems to be double beds and not queens. After doing some shuffling and using an air mattress, the problem was solved. We spent many mornings and evenings on the screened porch. 360 Blue was very attentive.
Property Manager Response:
What a great photo Claire! Thank you for sharing. We are thrilled to hear that you enjoyed your stay in WaterColor. We absolutely agree that the screened in porches at this home are the perfect spots for starting your mornings and ending your evenings together. Thank you for staying with 360 Blue. We hope to see you again soon!
July 2019 Stay
Rating:
Location location location. This was our fifth year at watercolor and this was the best location we've stayed. We had eight people of all ages and everyone got to their favorite spots easily. Thank you for a great week.
Property Manager Response:
We are so happy to hear that you enjoyed your vacation with us in Watercolor! We agree that this home is situated in a wonderful location! Thank you for staying with 360 Blue, we hope to host you all again soon!
June 2019 Stay
Rating:
Our family of 8 adults and 4 kids, ages 4-9, had a great time here. The kids absolutely loved the new slide at Camp Watercolor. The biking was great as was the short walk to the Seaside Amphitheater for the Kids' Concert. The house worked very well for us; plenty of room for everyone and the porch swings were great for naps!
Property Manager Response:
Linda, we are so happy to hear that you enjoyed your stay in WaterColor. We completely agree that the porch swings are perfect for napping after a long day at Camp WaterColor. Thank you for staying with 360 Blue. We hope to see you all again soon!
March 2019 Stay
Rating:
This was our first time getting our families together for spring break, 5 grandchildren and a total of 7 adults. While it was crowded along 30A we enjoyed all the amenities of Watercolor. The team at 360 Blue were fabulous and responded to every request to make our stay enjoyable and memorable. We even had the battery on our car go dead and they had someone swing by and give us a jump. We will be back.
Property Manager Response:
We are beyond delighted to hear how much you enjoyed your stay with us in Watercolor! Thank you for staying with 360 Blue, we are always here to help in any way we can! We look forward to seeing you again soon!
August 2018 Stay
Rating:
We enjoyed Watercolor. The house was clean, with a well stocked kitchen, and tidy but there were several challenges --broken chairs, ice maker barely working, and for us, too many crowded in too few beds which was our fault, not the owner's. The house seems too small for 16. The carriage house is cute and comfortable but for us older folks we found not having a harder chair to sit on was wearing. That, at the age of 76, plus BR shortage, would keep us from renting here again. Perhaps a pair of upholstered hard back arm chairs might be considered when they upgrade. Also, the door to the porch in the carriage house BR does not close. Too much warping??? Needs to be addressed. 360 was very responsive so we would deal with that company again.
Property Manager Response:
We are so glad that you enjoyed your time with us in Watercolor! We apologize for the inconveniences felt during your stay and we will be sure to share your feedback with our team in an effort to correct what we can for future guests. We are so pleased that your experience with 360 Blue was a positive one and we look forward to hosting you again soon!
July 2018 Stay
Rating:
Loved the house but it was so cold in master bedroom. Closed vents but still cold in order to have kids bedrooms upstairs cool.
Property Manager Response:
We are glad that you enjoyed 29 Dandelion while on vacation in Watercolor! We will share your valuable feedback regarding the AC with our team to see what can be done about that. We hope to see you again soon!
Sun, fun & friends! Watercolor 2015
Rating: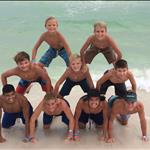 Great house! 9 boys, 6 adults & plenty of room for all! Great location (other than rude next door neighbor who let it be known she doesn't like "renters" who are there to have fun!) we'll be back next year but not at this location!
Property Manager Response:
What a fun picture! We're glad you all enjoyed this home and its ideal location in WaterColor! We're so sorry to hear there were any disagreements between the neighbors. WaterColor is so friendly and welcoming to families from all over, especially the ones here to have a great time! We're glad this minor set back did not stop you and your family from having a blast and we look forward to your next visit!
July 2015 Stay
Rating: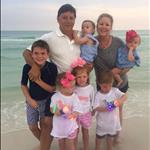 Wonderful location. Our group loved the house and the location. Grandchildren loved the street in front of the house to ride bicycles. The Johnsons
Property Manager Response:
That is wonderful to hear you got to vacation with all your adorable grandchildren! We hope you bring them all back again, thank you!
April 2015 Stay
Rating: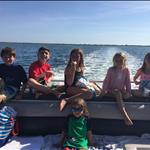 We had a great time and really enjoyed the house. Great location and a wonderful time for our group of 11. Thanks!
Property Manager Response:
How fun!! The little ones sure do look like they were having a blast! Thank you so much for sharing, we are happy you had a great time! Thanks again!