watercolor-the-cottage-on-scrub-oak-235-scrub-oak-circle
WaterColor "The Cottage on Scrub Oak" 235 Scrub Oak Circle | Santa Rosa Beach Vacation Rental
HOME HIGHLIGHTS:

- 150 yards to the Famous Frog Pool! (heated by Watercolor this winter (2018/19) due to construction on 2 other pools in the community)

- Access to all 5 award winning Watercolor community pools and Watercolor tennis courts!

- NEW Private Heated pool with sitting spa! **Pool heating is available for this property from October 1st through May 1st for $45 per day**

- 6 Passenger Golf Cart

- High Speed Wireless Internet

- Sonos Sound System

- Fully equipped gourmet kitchen

- TV's in all the bedrooms

- Propane Grill / Green Egg

- This property comes with 2 dedicated parking spots. Additional parking can be found throughout the community.

- Complete Clean Linen Participant - ALL linens, including comforters laundered upon every checkout.

EXECUTIVE ACCESS: WaterColor guests staying at this 360 Blue property have complimentary access to 5 award winning community pools, the use of two kayaks or canoes for one hour per day, as well as 20% off stand up paddle boards at the WaterColor Boathouse and, for an additional cost, limited tee time access to award winning Shark's Tooth and Camp Creek Golf Courses, 20% off daily or weekly passes at the WaterColor Fitness Center and 2 tennis courts at both WaterColor and Shark's Tooth Club.

DETAILS: "The Cottage on Scrub Oak" is just what discerning guests are looking for in a beach vacation — a beautifully furnished 4 bedroom/4 bath home on a sweet, quiet street with nature rather than neighbors behind the home — convenient to all Watercolor amenities and the beach, especially with a 6 seater golf cart and 4 adult bicycles!

Off the front porch you're just steps to the kids' favorite - the "Frog Pool." Out the back door, peaceful nature trails - go left for a short walk or bike to the tennis center and path into Seaside. Or take a right out back of The Cottage to Boathouse on Western Lake for fishing, YOLO or the pool, then on to the Beachclub pool and beach. Kids of all ages absolutely love riding in a golf cart — a fun outing to Camp Watercolor or maybe pizza for dinner? And easy for the grocery store!

Back at The Cottage, relax on either of the two large screened-in porches overlooking the beautiful private pool and the nature area beyond the back gate. Grill on the legendary Big Green Egg and settle into comfy couches by the beautiful shell fireplace in the open concept main living area. A gourmet kitchen with gas cooktop and huge dining table to seat 8 plus 4 barstools at the counter. Gorgeous, unique walnut hardwood floors. An oversized laundry room, a cute bunk room for the kids to claim as their own, and tv's/wifi in every bedroom. All of this plus little Mom touches like books, board games and puzzles. All you need to do is bring the family ready for fun and relaxation.

SLEEPING ARRANGEMENTS (Sleeps 12):

First Floor:

- Guest Bedroom: King Bed, Shared Bathroom with Shower

Second Floor:

- Guest Bedroom: King Bed, Private Bathroom with Shower

- Bunk Room: Two Twin over Full Bunk Beds, Private Bathroom with Shower/ Tub Combo

- Master Bedroom: King Bed, Private Bathroom with Shower

Weddings are not allowed at this home. If this policy is violated, you may be asked to vacate the property and forfeit any rental payments as well as be subject to fines.

**Beach Club Construction Update - We are excited to announce the Beach Club in WaterColor will be expanding to offer two additional pools, a restaurant with indoor and outdoor seating, a bar area and much more! Tuesday after Labor Day (9/4/2018), the Beach Club will close, resulting in zero access to the Camp or Beach Club pools through the end of the year. During the construction process, access to the beach, rental chairs, towel service, and alternative food service and restroom options will still be available. The expected completion date for phase 1 of the Beach Club is Memorial Day, 2019. During construction, the HOA is working to ensure all alternative WaterColor community pools are heated.
Thank you for entering your review. The review will become available to the system shortly.
April 2019 Stay
Rating:
Our family had the best time at this cottage! The house was beautiful and cozy and well appointed. Our favorite part of the property was the screened in porches and the heated pool. Our kids loved swimming and it was nice that they could swim while we ate dinner outside. The location is my favorite in Watercolor - - a peaceful and quiet neighborhood right next to the beautiful wooded bike paths and just a quick bike ride to the beach over the boathouse bridge. The golf cart was great to have for trips to the grocery store and the beach. Thanks for another wonderful week!
Property Manager Response:
We are so delighted that you enjoyed your stay with us in Watercolor! We could not agree more about how perfectly situated within the community this home is and having the golf cart takes all of the stress out of the to and from! Thank you for joining us, we hope to host you all again soon!
January 2019 Stay
Rating:
We had a last minute stay after the New Year with our kids and loved everything about the house. The heated private pool and golf cart were definitely perks however loved just hopping on bikes to get to the beach. We would love to come back to Scrub Oak Circle!
Property Manager Response:
We are so thrilled that you and your family enjoyed your stay with us in Watercolor! Thank you for staying with 360 Blue! We hope to see you again soon!
November 2018 Stay
Rating:
The house was awesome, and the heated pool was fantastic. Absolutely stay here again.
Property Manager Response:
We are so delighted that you enjoyed your vacation with us in Watercolor! We agree the luxury of the private pool makes for an amazing and relaxing vacation! Thank you for staying with 360 Blue, we hope to see you again soon!
October 2018 Stay
Rating:
Hudson's would love to return when the development is operating at 100%. lack of pools and the beach made our stay less than ideal. 360 was a pleasure to work with and communicated well with us. love your app and enjoyed our house.
Property Manager Response:
We are so glad that you enjoyed your experience with us at 360 Blue and that you enjoyed 235 Scrub Oak! We are also very excited for the upgrades to the Watercolor community and hope that you are able to join us again soon to experience all the thrilling additions!
September 2018 Stay
Rating:
Beautiful property! Beautiful beach! Wonderful vacation!
Property Manager Response:
We are so delighted that you enjoyed your vacation with us! Thank you for choosing with 360 Blue, we look forward to seeing you all again!
July 2018 Stay
Rating:
My family has been coming to the 30a area for the last 10 years. This by far has been our most favorite house. First time staying in Watercolor and loved it. Enjoyed the pool area. Only suggestion would be to have a tiled area on the back side of the pool. (More tanning room and less pine straw and leaves in the pool) We had one slight issue with the shower in the bathtub. Made a phone call and it was promptly fixed. Golf cart and bikes were a big plus!! Love renting with 360 Blue! We will be back!!
Property Manager Response:
We are so glad you enjoyed your first Watercolor vacation! We have reached out to the home owner and learned that Watercolor's HOA restricts the amount of tile that can be used in backyards, otherwise the home owner would have loved to have tiled the area more. We hope to host you again very soon
Spring Break 2018
Rating:
We have stayed at this house before, but this was our first visit since the new pool and jacuzzi were put in. Great addition! We enjoyed the privacy of hanging out in the pool with just our family, especially in the evenings. Cooked out on the grill for two of our dinners and then back in the hot tub — a lot of great conversations with our kids with no phones to distract out there! We love the layout of this home and all the books and board games. It's location in Watercolor is perfect for us - not a lot of traffic in this area, and we really like riding bikes on the trails right behind the house to Seaside's shops and food trucks and the Watercolor Beach Club area. FYI, Uber ride from the airport was only $60 when husband arrived later in week, and with this house having it's own golf cart to get us to grocery store and local restaurants, we may skip renting a car on future trips because really not needed. Great house, love Watercolor and 360 Blue folks are awesome - will be back for sure!!
Property Manager Response:
We are absolutely thrilled to hear that you enjoyed the new additions! The pool and sitting spa at this home are impressive amenities, and great for families who want a little privacy while enjoying a swim and a grilling out session! The impressive layout does give everyone space to do their own thing, whether you desire to relax alone with a book or gather to play a board game. With the home being tucked away in a quieter part of WaterColor, the location is perfect for avoiding traffic and taking the bikes out to Seaside or the Beach Club. The golf cart is another great amenity at this home, so convenient for getting to and from without the hassle of a car. It makes our day to hear that you loved this house and that we were able to help you have an awesome vacation. Thank you so much for the review!
The Cottage at Scrub Oak
Rating:
We enjoyed our stay in this beautiful home. The organization and cleanliness exceeded our expectations. It was great to have access to the bicycles and a 6 passenger golf cart at the house. The home was furnished comfortably and with many conveniences. All the bed pillows, however, were overstuffed and too firm. We scrambled to use the smaller decorative pillows during our stay. We loved the beach, all the pools, and bike paths. Thank you very much.
June 2017 Stay
Rating:
We loved this house! We had four adults and two children. We are an active family and we loved having the bikes. We rode all of the trails and were delighted to find ourselves in the camp district on a soccer field. The home surpassed our expectations: clean, well appointed, and great atmosphere. We love the quiet street and the path in the back. We will definitely be back... and want to stay at this home again!
Property Manager Response:
What a beautiful family photo! We are delighted to hear that your family enjoyed your stay with us and could take advantage of the complimentary bikes! We appreciate you taking a moment to share your experience with us, and hope you'll be back to see us again soon! Thank you so much for choosing 360 Blue for your family's beach escape!
May 2017 Stay
Rating:
Loved our stay at 235 Scrub Oak! 6 adults and 2 children and perfect set up for everyone! Easy bike ride or walk to Watercolor Inn and the beach. Short walk to the Frog Pool which was fun for the kiddos. Enjoyed a great family vacation!!
Property Manager Response:
What a gorgeous family photo! That's definitely one to frame and treasure for years to come. We are happy to hear that you enjoyed the home and your stay with us so thoroughly. We appreciate you choosing 360 Blue for your family's getaway, and for taking a moment to share your experience with us. Be sure to visit us again real soon!
April 2017 Stay
Rating: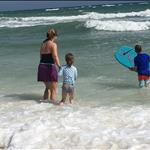 Fantastic place! Beds comfortable, ensuite bathrooms appreciated, kitchen well supplied with everything one needs, two screened in porches were wonderful. We are adding a porch swing to our cottage because we loved yours. I wish we had known that towels were provided at the pools and the beach as we didn't really need ours. Also I brought a hair dryer as it wasn't mentioned in amenities and you had them! It would be nice to have some spices and more dish detergent as it is a pain to have to buy them for one week! We loved having the golf cart and the bikes!
Property Manager Response:
Looks like it was the perfect day to be at the beach! We are so happy to hear you had such a great stay in WaterColor! The porch swing is such a nice bonus and really a great way to relax and unwind. We are also working hard to make sure all our amenities are clearly listed online as well. Thank you for your valuable feedback. Thank you for staying with 360 Blue and we hope you come back and visit us again soon!
February 2017 Stay
Rating:
Great house. Agree with comments in previous reviews that it's really nice to have a golf cart for 6 people, it's a pretty house with a lot of attention to details, the screened in porches are great, etc. We also loved having the nature trail behind the house for morning runs. One morning we went out and 5 deer were standing right there! 360BLUE was great to deal with and we liked being able to go right to the house and not have to stand in line to check in somewhere else. We will stay at this house again.
Property Manager Response:
Such a beautiful sunset! Definitely one to frame so you can remember and enjoy it for years to come. Thank you so much for staying with 360 Blue and we can't wait to have you back at the beach again soon!
December 2016 Stay
Rating: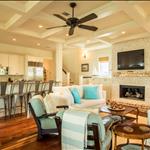 We had a wonderful time staying in Watercolor for Thanksgiving. This house was lovely and worked well for grandparents with family including 3 teenagers. The kids enjoyed bike riding from this house to Seaside food trucks every day (the Shave Ice place was the favorite and the lady who runs it is very nice) and it was great that 360 Blue provided good bicycles with the house. The grandparents appreciated having a bedroom and bathroom with shower on first floor, and we used the golf cart that came with the house to go for coffee at Amavida (best cappuccino) and Publix grocery store which is also convenient. We will definitely be back!
Property Manager Response:
We are thrilled to hear that you really took advantage of everything this home and community have to offer. This is such a wonderful time to be on 30A and this amazing home just makes it even better. We loved having you with us and hope to see you back soon!
December 2016 Stay
Rating: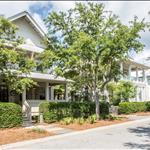 An awesome home. No so huge that it seemed overwhelming for just our family, but plenty of space to hang out with the two screened in porches. The kids found all the dvd's and watched movies in the bunk bed room every night. I can't believe it included a golf cart, which was also fun and just always made it seem like a vacation even if we were just going to the grocery store. We love Watercolor in the summer, but maybe even more so in the Fall and Winter when no crowds!! Put on a sweatshirt to go for a peaceful walk on the beach in the mornings and brilliant no humidity afternoons for walking around the shops and food trucks. Great to get into restaurants without a reservation.
Property Manager Response:
We are so happy to hear that you had such a wonderful stay. The fall and winter is truly an amazing time to be on 30A. The sunsets are amazing and there is something so special this time of year. We loved having you with us and hope to see you back soon!
October 2016 Stay
Rating:
We were not prepared for this week and how amazing it was going to be. The food. The charm. The clear ocean. The sand the weather. I could go on and on. But it would have been wasted if the home we stayed in didn't have the same kind of charm and character. We loved this beautiful home. It was the perfect size for our family. The golf cart was a huge bonus. Made our late nights in seaside easy to find out way back in the dark. We loved the feel of this home and everything except one tiny detail. The pillows. I know it is minor but an easy inexpensive fix. They are scratchy and feel like they are full of straw. I know that is nit picky but if I came back here I would have our family bring our own pillows. But other than that perfection. So thank you we are already picking our dates for next year.
Property Manager Response:
It makes us happy beyond words to hear that you had such a wonderful stay! We have asked the property manager to check into the pillows and work on some alternatives. We appreciate your feedback. We look forward to having you all back soon!
August 2016 Stay
Rating:
We had such a great time in 30A! The Watercolor community was perfect for our two little kids - we loved the private beach club and pools and used the golf cart and bikes to get around all weekend! The house was perfect - we especially loved the back screened in porch and huge dining table. Clean, well decorated, high quality built home - we would absolutely come back!
Property Manager Response:
Looks like everyone is having a great time! We are so happy that you were able to take advantage of everything that this amazing home and community home to offer. We look forward to having you back soon!
June 2016 Stay
Rating:
Great home that accommodates 10 comfortably. Great area and location. Pools are fantastic. Love the golf cart and bikes!! We will be back!!
Property Manager Response:
Hi Gagliano Family: We are excited to hear your enjoyed your WaterColor vacation and that the accommodations at 235 Scrub Oak were comfortable! Give us a call when you start planning your next family vacation, we're happy to help!
May 2016 Stay
Rating: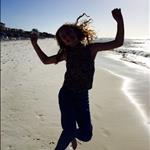 Every time we come to Watercolor we look for the best house for our family of 5 (this time plus Grandma) - we found it in this house! Perfect location - super close to the Frog Pool, my tweens dashed out every morning to go fishing at the Boathouse, and lovely walk (along lake) or easy bike ride to beach, tennis and Seaside. LOVED this home's open concept that had us all comfortably together cooking, doing puzzles at the big table, watching our Netflix on the main tv. Great games, puzzles, dvd's here! Worked out perfect to have a bedroom/bath on first floor so Grma could weave in/out of the family stuff or go to kitchen without going up/down stairs. Brand new gas grill was great! Best thing was the screened-in porches so we often had breakfast & dinner outside, and loved sitting out on the private screened-in porch off master with glass of wine in the evenings or coffee and a good book in the mornings. Icing on the cake - this house includes 6 person golf cart!! Thanks 360Blue for an awesome vacation home!!!
Property Manager Response:
Thats a great photo! It sounds like you had a fantastic family vacation. It was a lovely week, so I'm glad you got the opportunity to use the outdoor areas! I hope some great memories were made. We hope to see you again soon!
When you book a stay with 360 Blue, you get access to a world class vacation with the area's most extraordinary eco-tourism adventures and family friendly experiences. We have a variety of activities from half day to full day experiences and we've handpicked every detail – door to door luxury transportation, kid's camps, stand-up paddling adventures and much more! Book your perfect getaway then let our guest ambassadors help you plan your adventures!