watercolor-the-way-we-like-it-433-pine-needle-way
WaterColor "The Way We Like It" 433 Pine Needle Way
HOME HIGHLIGHTS:

- Private Pool **Pool heating is available for this property from October 1st through May 1st for $25 per day**

- Golf Cart

- 4 adult bikes provided

- Gas grill

- Wi-Fi

- This property comes with 7 dedicated parking spots. Additional parking can be found throughout the community.

- Complete Clean Linen Participant - ALL linens, including comforters laundered upon every checkout.

EXECUTIVE ACCESS: WaterColor guests staying at this 360 Blue property have access to 5 award winning community pools, 2 tennis courts at both Shark's Tooth Club and at WaterColor, limited tee time access to award winning Shark's Tooth and Camp Creek Golf Courses, 20% off daily or weekly passes at the WaterColor Fitness Center and complimentary use of two kayaks or canoes for one hour per day, as well as 20% off stand up paddle boards at the WaterColor Boathouse.

DETAILS: This 4 bedroom/5 bathroom Watercolor vacation rental home backs up to protected forest and creates one of the most tranquil outdoor living spaces in Watercolor, with a huge heated pool and parking for up to 7 vehicles. Among other pluses, it features a great bunk room, open floor plan, and a wonderful chefs kitchen that leads to the private outdoor patio and heated pool area. With a 5 burner gas stove, upgraded stainless steel appliances and maple cabinets this kitchen will make anyone want to whip up a gourmet meal during their stay. There is oak flooring throughout the home as well as reclaimed antique oak beams in the living room. All of the bedrooms have King beds and there is an additional bunk room with four twins. The bathrooms showcase marble vanities and stunning showers. This home offers plenty of privacy with wooded area surrounding the property. With all of the amenities this home offers, you will never want to leave!

SLEEPING ARRANGEMENTS (Sleeps 12):

FIRST FLOOR:

- Guest Bedroom: King Bed, Private Bathroom with Shower/Tub Combo

SECOND FLOOR:

- Master Bedroom: King Bed, Private Bathroom with Shower and Tub

- Guest Bedroom: King Bed, Private Bathroom with Shower and Tub

- Guest Bedroom: King Bed, Shared Bathroom with Shower Only

- Bunk Area: Two Twin over Twin Bunk Beds, Shared Bathroom with Shower Only

WATERCOLOR NEIGHBORHOOD HIGHLIGHTS:

- Named the #1 family vacation destination in the U.S.

- A 499 acre coastal resort and residential community

- Ideal bike community perfect for family getaways

- Pristine sugar sand beaches

- 4 swimming pools

- Award-winning tennis facilities

- Championship golf nearby

- World Famous Beach Club

- Unparalleled beachside, poolside and lakeside dining

- Acres of parks, gardens and foot paths

- Nearby state parks and preserves

Weddings are not allowed at this home. If this policy is violated, you may be asked to vacate the property and forfeit any rental payments as well as be subject to HOA, community and 360 Blue fines.

Please note: Effective March 15, 2014, golf cart rentals in WaterColor must be made through The Electric Cart Company and will be limited to 30 vehicles throughout the community at any given time. Only one cart may be rented per home and rentals will be granted on a first-come, first-served basis.

**Beach Club Construction Update: We are excited to announce the Beach Club in WaterColor is now open with the completion of Phase 1! The Main Pool and Upper Deck have been completely refurbished, and the Main Pool Deck and Rita Bar now offer additional lounge and seating areas. Although limited, grab-and-go food options are also available. Phase 2 is expected to be completed later this fall, and will feature two additional pools. Until then, however, the Beach Club will be closed on Mondays to allow construction to continue safely and unobstructed.
Thank you for entering your review. The review will become available to the system shortly.
June 2019 Stay
Rating:
This is our 5th year renting homes in WC and this was the best so far. All 4 king beds were comfortable, the layout of the home was great. We had 8 adults and 4 children and still had plenty of space. The golf cart was also a great addition to this rental, as was the pool. The only drawback was that the pool light was burned out and unfortunately no one ever showed up to fix it. When we arrived at the house, our key cards for pool access were not there and all of the fire alarms were out of the ceiling laying on the floor. 360 Blue did respond to those items very quickly and everything else was great. We would absolutely book this home again!
April 2019 Stay
Rating:
We had the best family vacation!! The house was plenty big. Loved the pool for the grandkids. Golf cart and bikes are a big help in getting around. Allot of privacy where house is located. We would definitely stay here again!! The Betz Family
Property Manager Response:
We are so happy to hear how much you enjoyed your stay with us in this wonderful home and community! Thank you for your valuable feedback, we will be sure to share this with our team. Thank you for staying with 360 Blue, we hope to see you all again soon!
August 2018 Stay
Rating: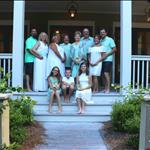 We are very thankful to have found this perfect place for our Berg family vacation in Watercolor. It was truly memorable. There were 11 of us including 3 grandchildren ages 8, 11 and 15. Some of us went to the beach early each morning to see the sunrise. The family found the porches comfortable, especially to sit and read on the upstairs front porch swing and enjoy the peaceful area. We had a beautiful wedding set-up on the beach to celebrate the renewal of wedding vows in front of family. We appreciate the opportunity to stay in this beautiful and very comfortable house. The children were very happy to have the pool and it was sometimes difficult to coax them out of it. Thank you for creating and sharing the perfect place for us. Chris & Joan Berg
Property Manager Response:
We could not be happier to hear how much you all enjoyed your time with us in Watercolor! We are touched that you chose 360 Blue to host your vow renewal. We wish you many more years of happiness! We agree that this home is perfect for larger groups and families and has so much to offer! The accommodations are second to none. The wonderful photo you shared with us is amazing! Thank you for choosing 360 Blue, we hope to help you with future vacations!
May 2018 Stay
Rating:
It was a wonderful week-long home away from home for our family of 10! Perfect distance from everything and we loved being able to ride bikes or walk to the beach and pool, and Seaside fun. We all went to the club house everyday.. that was amazing!! We had a few minor issues like the a/c unit freezing up, oven making weird sounds and not cooking properly one night so we had to reset it, dishwasher not completely cleaning the dishes, but the 360 Blue folks were wonderful in responding and helping to resolve them. I do wish the house had more matching storage containers, and better knives, as well as more bath towels (we had no wash clothes upstairs), as well as more kitchen towels. Aside from those issues, we absolutely loved the space! The outdoor porches were amazing!! We will definitely recommend this place to friends and family and hope to return again in the future.
Property Manager Response:
We are so happy to hear that you and your family had a great vacation! The family photo is beautiful! We agree that this home is in a perfect location and has the perfect accommodations for families. We have made a note of your valuable feedback and will share this with our team. We are so pleased that our team was able to help get those matters resolved in a timely fashion. We hope to host you and your family again soon!
July 2017 Stay
Rating:
We were a family of 11 (4 adults, and 7 kids ranging in age from 15-2yo). The location was great. Just a little off the beaten path to access the beach, so having a private pool was the perfect addition. We loved riding bikes through the neighborhood and to 30A for lunch and freshly pressed juices. Having Publix grocery store around the corner was a huge plus! The house is gorgeous, super clean, and well equipped. There was plenty of space for all of us! We used the concierge to book a sandcastle lesson and it was a great success. Highly recommend! We will definitely be back.
Property Manager Response:
What a beautiful group! We love seeing those smiling faces! We couldn't be more thrilled that you enjoyed your stay with us so thoroughly! We are so glad you could enjoy one of our 360 Blue experiences, sand castle building really is fun for the whole family! Thank you so much for choosing 360 Blue, and for taking a moment to share your valuable feedback with us. We hope to see you back at the beach soon!
May 2017 Stay
Rating:
We were a party of 6 ladies celebrating a 50th birthday. We had a fabulous time and everyone was happy with the house. No complaints at all. I would highly recommend 433 Pine Needle. It was the perfect house for our group.
Property Manager Response:
What a beautiful photo! We couldn't be more thrilled you and the ladies had such a wonderful getaway! Thank you so much for choosing to stay with 360 Blue and be sure to keep us in mind for your next vacation!
October 2016 Stay
Rating:
We had a wonderful time at 433 Pine Needle Way. The house was as neat as a pin, warmly decorated, and very clean upon arrival. The pool was cleaned and heated for us to jump right in, which our 3 year old daughter loved! The weather was unseasonably warm most of our stay but the air conditioning units kept up with our a/c needs- which we have found that other homes do not. The kitchen was well stocked and the beds were comfortable. We felt right at home and we had everything we needed. The only thing missing was a blanket for a few cool nights, but 360 Blue delivered one promptly when I called to request one. The back and front porches were great places to enjoy some quiet time or enjoy coffee. It is a lovely home. We will be back! Thank you, 360 Blue!
Property Manager Response:
What a beautiful family photo, definitely one to frame so you can remember it for years to come! We are so happy to hear you and your family enjoyed the home so much! Thank you for staying with 360 Blue and we cannot wait to have you back at the beach again soon!
September 2016 Stay
Rating:
This property is one of the best properties I have stayed in at Watercolor! Having a private pool was a treat, and having a tennis venue just blocks away from the house was a great perk! I will stay here over and over again!!!! Just wish I could have stayed longer... Next time!
Property Manager Response:
What a lovely group of ladies! We are so thrilled that you had such a wonderful stay. We hope to have you back soon for another beach getaway!
July 2016 Stay
Rating: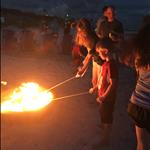 What a wonderful summer vacation. 360 made everything super easy, and with 5 kids in tow that means a lot! We had a few things that needed attention at the house and within an hour they were there. Thank you to everyone who was so attentive and helped make our vacation so special.
Property Manager Response:
What a great photo! Bonfires on the beach are the best! We are so happy to hear that you had such a great stay. We enjoyed having you with us and look forward to having you back soon!
The Stoute's
Rating: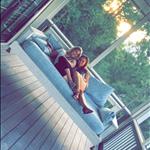 This was our second visit to this beautiful home!! We love the neighborhood charm and well maintained properties. The children enjoyed riding bikes to the beach and exploring other areas of WaterColor. This property has a pool and an outdoor entertaining area, which welcomed us at the end of each day. Grocery shopping is an ease with the supermarket and other shops nearby. We actually found a seafood market just 2 miles away, which provided fresh shrimp and fish for our meals on the gas grill. You definitely should use the "360 Blue" app. We would receive daily alerts, reminders and invites to the local events. It is a convenient way of staying connected to the 360 community. Awesome house, awesome owners, awesome time!!
Property Manager Response:
It is hard to find a better way to spend your time than hanging out on those porch swings! We are so happy that you loved this home as much as we do. The app really is a great way to experience all that the area has to offer. Thank you so much for choosing 360 Blue. We hope to have you back soon!
November 2015 Stay
Rating:
433 Pine Needle Way has been the best house we have rented in Watercolor over the last 10 years. The house was very nicely furnished and kept, it was very clean and had everything we needed. This was our 4th Thanksgiving down here with our extended family and had a great time - weather sensational. Would highly recommend 360 Blue and certainly would consider renting this great house again. Thank you - Kitzmans, Lookout Mountain, TN
Property Manager Response:
Thank you for spending the Thanksgiving holiday with us this year at 433 Pine Needle Way! We are thrilled to hear you and your family enjoyed this home and everything it has to offer. We'd love to have the whole family back for many more years to come, thank you again Kitzman Family!
October 2015 Stay
Rating: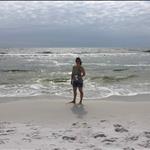 We stayed in Watercolor for a wedding in Rosemary beach and I'm so glad we did. The privacy of the home and ease of getting around made our trip! The town is just adorable with so many good eats and shops near the beach. Loved the layout of the home and the openness of the kitchen and living room. The screened in back porch was the perfect addition to the pool. Can't wait to go back!
Property Manager Response:
Despite the recent rain, looks like you all were able to get out and enjoy some time at the beach! Thank you for staying with us and we can't wait for you all to come back as well.
July 2015 Stay
Rating:
Our 8th annual family Watercolor trip - and it was a good one! We had perfect hot July weather with gorgeous blue green Gulf waters. 433 Pine Needle was very comfortable for our group of eleven. We especially loved the wonderful kitchen where we prepared some great breakfasts and dinners in. It's a well stocked kitchen, except for just a few neccessties - hot pads and oven mitts, an electric mixer, and a colander - but we improvised. We absolutely loved the ice machine - best one we've ever had - it kept up with 3 coolers for the beach every day with ice to spare! Great layout in the house with plenty of seating in front of the big screen TV in the living room, and loved that all four bedrooms have comfy king size beds. Just The Way We Like It is a comfortable and beautifully decorated home.
Property Manager Response:
Thank you so much for sharing your feedback and suggestions. We will be sure to add any needed kitchen items to the home as soon as possible. We're glad this beautiful home fit you all so perfectly! Hope to see you for your 9th annual trip!
June 2015 Stay
Rating: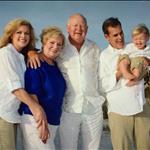 We had an amazing family vacation with all of the comforts of home. The house is perfect for large groups with the large kitchen And 4 bedroom suites. The 360 team made our trip easy and provided excellent service for all of our needs
Property Manager Response:
Aw! Such a good picture! We are so glad we made your vacation easy and effortless! Hope to have you back!
May 2014 Stay
Rating:
A perfect house to explore Watercolor for (2) families. We enjoyed it so much! The Richelle Family
Property Manager Response:
Gorgeous photo! Thank you so much for sharing! We are so glad that you families enjoyed your stay at this lovely WaterColor home! We hope you will be back soon!
Spring Break 2014
Rating: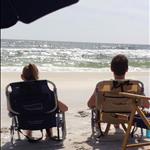 We had an amazing week. This house is perfect in every way. Can't wait to come back!
Property Manager Response:
This is definitely a stunning home. We are so glad to hear that you enjoyed your stay and hope you'll give us a call the next time you need a little beach time.
When you book a stay with 360 Blue, you get access to a world class vacation with the area's most extraordinary eco-tourism adventures and family friendly experiences. We have a variety of activities from half day to full day experiences and we've handpicked every detail – door to door luxury transportation, kid's camps, stand-up paddling adventures and much more! Book your perfect getaway then let our guest ambassadors help you plan your adventures!