WaterSound 72 Yacht Pond
HOME HIGHLIGHTS

- Private Heated Pool - Pool heating is available October 1st through May 1st for an additional fee of $25 per day.

- 4 Seater Golf Cart

- Surround sound in the living room with HDTV

- Overlooks beautiful strean

- 5 adult bikes provided

- Adult Tandem Kayak

- Beach chairs and Kayak Rentals available for rent

- Outdoor gas grill

- Numerous porches, one screened

- Gourmet kitchen, fully equipped kitchen

- Private Drive for Parking 4 Vehicles

- Fireplace

- Complete Clean Linen Participant - ALL linens, including comforters, laundered upon every checkout

EXECUTIVE ACCESS: WaterSound guests staying at this property have complimentary access to the WaterSound Beach Club, 3 community pools (including the 7,000 square ft zero-entry pool at the WaterSound Beach Club), the use of two kayaks or canoes for one hour per day, as well as 20% off stand up paddle boards at the WaterColor Boathouse and, for an additional cost, full access to Shark's Tooth and Camp Creek Golf Courses, the WaterSound Fitness center, and 2 tennis courts at both Shark's Tooth Club and the WaterSound Beach Club.

DETAILS: Incredible 5 bedroom / 5.5 Bath Masterpiece in WaterSound with separate detached carriage house, private heated plunge pool, a golf cart, private baths for each room, gourmet kitchen and incredibly beautiful interior design. Spectacular views of the Gulf and all of WaterSound from the crow's nest. Located about 250 yards to the pools (DuneSider Grill serving lunch poolside in the summer season) and beach, this is one of the nicest homes in WaterSound in an ideal location!

Take a dip in your private pool w/heater, then jump into the golf cart that comes with the house free of charge or the 5 bikes provided. This makes it easy for everyone to head to the beach and enjoy the free kayak or to just tour the neighborhood.

**If you would like to book more than 21 days you will need to call our office to reserve.

SLEEPING ARRANGEMENTS (Sleeps 12):

FIRST FLOOR

- Master Bedroom: King Bed, Detached Private Bathroom With Shower Only

SECOND FLOOR

- Guest Bedroom: Two sets of Twin Over Twin Bunk Beds Each With Own TV, Private Bathroom With Shower Only

- Guest Bedroom: Queen Bed, Private Bathroom With Shower/Tub Combo

- Master Bedroom: King Bed, Private Bathroom With Shower Only

DETACHED CARRIAGE HOUSE

- King Bed, Private Bathroom With Shower, Kitchenette, Dishwasher and Refrigerator/Freezer Combo

Golf Carts: IMPORTANT INFORMATION BELOW.

- Unfortunately due to HOA rules the guest will not be able to rent golf carts and will not be able to bring their own golf cart.

- If the home you are renting has a golf cart provided by the owner then please be aware of the golf cart rules and regulations.

- Renter's will be required to provide the proper insurance and driver's license information at the WaterSound Gatehouse upon arrival or YOU WILL NOT BE ABLE TO USE THE GOLF CART.

- Lastly, if a person without a valid driver's license is found to have operated the golf cart provided, or is found driving in a reckless manner then the guest will be fined a $750.00 charge to the account provided on the reservation.
Thank you for entering your review. The review will become available to the system shortly.
December 2017 Stay
Rating:
We had the most wonderful time! The house was perfect for all 10 of us. The walk to the see the sand dunes and beach was beautiful! 360 Blue was very accommodating and friendly. Thank you so much!
October 2017 Stay
Rating:
We had a wonderful stay in this beautiful home! Beds were comfy and we loved all the outdoor sitting areas. But, we were disappointed that the ice maker didn't work and the carriage house smelled musty. If those things were rectified, this house would be perfect!
September 2017 Stay
Rating:
We had a really nice time. The house is very pretty. The carriage house smells quite musty...disappointing. We all wished there were hooks in the house to hang wet towels on. We love the community.
Property Manager Response:
We are thrilled that you enjoyed your stay! The community of WaterSound is beautiful. Thank you for the lovely picture of the beach! We absolutely value the input of our guests, and have addressed the carriage house smell and the lack of towel hooks. We apologize for any inconvenience this may have caused, and look forward to having you as our guests again in the future!
May 2017 Stay
Rating:
Our family had a wonderful time on our first visit to watersound. We enjoyed the house - it was a great setup for the 10 of us. The kitchen was well equipped and we loved the location. I do think you should let guests know that there is little to no cell service at this house. We have 4 teenagers and 6 adults and no one could make a call or send a text inside the house. This makes it difficult for those that need to get some work done while on vacation, and it is hard to communicate with the group if we split up during the day.
Property Manager Response:
What a fun day for paddle boarding! We do apologize for the phone service. Media com is working on some fixes for the service in WaterSound. We do hope you were still able to make some amazing memories at the beach! Thank you for staying with 360 Blue and we hope to have you back again soon!
May 2017 Stay
Rating:
Our group of 8 adults and 2 children enjoyed our stay in Watersound. It is our 3rd time to stay in Watersound. We especially enjoy the quiet neighborhood for walking, bicycling and golf cart riding.
Property Manager Response:
This photo practically oozes relaxation and serenity! We could not be more thrilled that you chose 360 Blue for this year's escape to Watersound. We love being a part of such wonderful family traditions. We're glad you enjoyed the home, and could take advantage of the ease of riding bikes and golf carts in the area. Thank you for taking the time to share your experience, we hope to see you back at the beach soon!
April 2017 Stay
Rating:
We have stayed in WaterSound many times and this was a great value. The house was as described! The kids had a great time! We would stay in this house again.
Property Manager Response:
Looks like the perfect beach day! We are so excited you and your family enjoyed your vacation so much! Thank you for choosing to stay with 360 Blue and be sure to visit us again soon!
August 2016 Stay
Rating:
Amazing home! We thought it was beautiful but could have been a bit cleaner.
Property Manager Response:
We are thrilled to hear that you had such a great time. We look forward to seeing you all back at the beach!
July 2016 Stay
Rating:
This was our 12th year vacationing in this area and our 2nd time at this very house. We love the house and all the amenities that come along with it. Our only wish is that the pathway to the beach was more accessible for a child with special needs. We can't wait to return next year!
Property Manager Response:
We are thrilled to hear that you love this home as much as we do. We will definitely pass this info along to the HOA to see if there is anything they can do about the boardwalk. We look forward to having you back next year!
July 2016 Stay
Rating:
This was our 6th year staying in a community on 30A from Seacrest to Water Sound. The WS community and property is our favorite. We enjoyed the beautiful, spacious and well equipped house. The bikes and golf cart were fun and made it easy to get around. Love the location of the community because of the closeness to other areas and restaurants that we like. Customer Service was great and calls and request were answered quickly. We look forward to returning soon!! One criticism, the description of the "view of the gulf" was a little misleading. The Terry Family
Property Manager Response:
Hi Terry Family: We are so glad to hear that you and your party enjoyed your vacation. Thank you for choosing 360 Blue and we hope to see you again in the near future!
July 2016 Stay
Rating:
Loved this place! Hope to se you again next year!
Property Manager Response:
Thank you for sharing your picture Davis Family! We hope you to see next year too!
July 2016 Stay
Rating:
We loved our stay in WaterSound this past week! The house was absolutely beautiful and there were no issues at all which is greatly appreciated! Celebrating the Fourth in WaterSound is just the best place on 30A-no crowds & lots of fireworks! We'll be back! Paul & Dena Williamson
Property Manager Response:
That is a great picture! It looks sounds like you guys had a relaxing time during your vacation. Please let us know when you are ready to book your next vacation and we will be happy to assist you!
June 2016 Stay
Rating:
Our family of five adults and two and five year old grandchildren loved staying in this lovely home. We love to cook, and the kitchen was well equipped and easy to use. Loved having the golf cart, bikes, beach chairs and all the pool and beach toys. One of the bathroom doors wouldn't close when we arrived, and 360 Blue immediately came and fixed it. The dunes, uncrowded beach, puttering park and fitness center make Watersound our favorite family vacation destination.
Property Manager Response:
Hi McClendon, We are glad to hear you had a relaxing beach vacation and enjoyed the sand dunes in WaterSound! Thank you for spending your beach vacation with us! We hope you will come back and stay with us again in the future.
Great Trip!
Rating:
We travel to 30A frequently for our family vacations. The house was immaculate and very well stocked. We were a group of 6 adults and 3 children. 72 Yacht Pond is very spacious and comfortable and within easy walk to the putt putt course, pool and workout facility. We enjoyed using the golf cart and it is a very easy ride to the beach which is convenient given the children in tow. Watersound is full of amenities and the grounds are beautiful and well kept. We had lunch at the pool, which was usually very good. We did have an issue with our grill upon check-in. 360 Blue immediately replaced it with a new one. 360 Blue associates are very friendly and easy to deal with. We will definitely be back! -The Mike Barlow Family
Manager Response:
We're absolutely thrilled to hear you enjoyed your stay with your family at 72 Yacht Pond! Thank you so much for staying with 360 Blue. We apologize for the minor hiccup regarding the grill at the home but we're glad you called so we had the chance to address that ASAP. Thank you again and we hope to have you back next year!
May 2016 Stay
Rating:
We enjoyed the house very much for our family group which included 8 adults and 4 children under 6. The house has many nice features and the kitchen is well equipped. We had a cook come in and do an oyster roast and invited a few other family members staying in Watersound and it turned out great! The beach access was easy with the golf cart. The kids also enjoyed the pool and it was nice to grab lunch there and the service was friendly and the food good! We were fortunate to have wonderful weather for our week stay.
Property Manager Response:
Those children are adorable! I'm so glad you had a wonderful vacation. I'm glad the weather stayed nice for you during your stay! We look forward to hopefully having you come visit us again soon!
July 2015 Stay
Rating: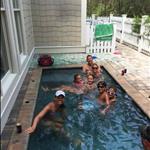 Our extended family of 12, 5 children and 7 adults had a great stay. Our second year and we apprecited all the improvements - backs on lr couches, working freezer and golf carts. St Joes has screwed up the neighborhood. Closed all the boardwalks to bikes and carts due to a lawsuit and could not reserve any blue umbrellas or chairs. We needed 4 sets. They had 0 available all week. Fortunately this great house has it all 7 beach chaiirs, 2 umbrellas, 5 boogie boards and golf clubs and balls for the kids to use at Puttering Park which they did alot. Also 8 bikes & a Kayak. This is the best outfitted house ever. We would love to stay here again but only after St Joes fixes access to boardwalks(It is a long walk carrying chairs umbrellas & Kayak) and stocks enough beach equipment to support everyone. This is the first time ever we have not been able to rent besch equipment.
Property Manager Response:
Looks like a fun pool day at the house! Thank you for all your feedback. We are certainly happy to hear you enjoyed the home again and all it has to offer the whole family! We are just as hopeful that the boardwalks will be reopened soon. We are truly sorry for this inconvenience, but WaterSound and St. Joe is working hard to get these reopened for guests as quickly and as safely as possible. We'd love to have you back again, thank you!!
When you book a stay with 360 Blue, you get access to a world class vacation with the area's most extraordinary eco-tourism adventures and family friendly experiences. We have a variety of activities from half day to full day experiences and we've handpicked every detail – door to door luxury transportation, kid's camps, stand-up paddling adventures and much more! Book your perfect getaway then let our guest ambassadors help you plan your adventures!
Your request has been sent. We look forward to meeting all your vacation needs!