watersound-99-compass-point-way-s-202
WaterSound 99 Compass Point Way S #202
HOME HIGHLIGHTS:

- Pristine condition!

- Newly Renovated

- Closest building to beach boardwalks and Dunesider pool.

- Gulf, dune, sunset, and pool views

- Two adult bikes

- Complimentary beach setups each morning include 2 beach chairs and 1 umbrella (Service provided Mar 1–Oct 31)

- Free WiFi

- Complete Clean Linen Participant—All linens, including comforters, laundered upon every checkout

DETAILS: Come enjoy all that's new in a community you'll love at Dunesview at Compass Point in Watersound. Redesigned and refreshed with guest comfort in mind, Dunesview offers a soothing coastal palette and carefully selected furniture (including new mattresses) to ensure a comfortable stay. Thoughtful conveniences include a Sonos sound system, a smart TV in the living room, an enlarged primary shower, wood flooring throughout, and additional beverage and pantry storage in the kitchen. The outdoor patio serves as a second living room with deep lounge seating and is the perfect spot to wind down from your busy beach day with a calming view of the sunset sky. This condominium sparkles with fresh paint and new/refinished flooring throughout. The new washer and dryer make laundry day easy! This premier condominium property in gated Watersound Beach provides walkable access to over a mile of sandy white beach. The neighborhood's 7 miles of boardwalks provide up close views of the gulf, the dunes, and Camp Creek Lake.

The primary bedroom has a king bed, balcony access, and a private bathroom with double sinks, separate seated vanity area, and shower. The second bedroom offers 2 queen beds and access to a connected bathroom with a combination bathtub/shower and 2 separate sink vanities.

SLEEPING ARRANGEMENTS:

Primary Bedroom: King Bed, Private Bathroom with Shower

Guest Bedroom: Two Queen Beds, Shower/Tub Combo

Living Room: Queen Sleeper

WATERSOUND AMENITIES:

- 265 acres of private, gated, beachfront community located South of Highway 30A and directly on the Gulf of Mexico between Deer Lake State Park and The Hub. Perfect for walking and biking.

- Puttering park, a 12-hole putting area suitable for all ages. Equipment provided.

- Use of 3 community pools (Dunesider, Bridges, and Compass Point pools are all accessible by guests staying in Compass Point).

- Kayak rentals available through 360Blue.

- Fitness center onsite (fees apply).

Weddings are not allowed at this home. If this policy is violated, you may be asked to vacate the property and forfeit any rental payments as well as be subject to HOA, community and 360 Blue fines.

* Unfortunately, due to HOA rules, guests will not be able to rent golf carts and will not be able to bring their own golf cart.
Beach Chairs & Umbrella(s)
Thank you for entering your review. The review will become available to the system shortly.
Fall Break
Rating:
Perfect spot for our Fall break. Everything was terrific! The weather was amazing & this spot was so comfortable...we couldn\'t have asked for more. The Martins Franklin, TN
Manager Response:
Hello Martin Family! Thank you for leaving a review related to your stay with us during fall break. We are pleased to hear that you had a wonderful experience at this great home in Watersound. We appreciate and value your feedback, and we hope you come back again soon. Thank you for choosing 360 Blue.
March 2020 Stay
Rating:
We had the most wonderful 9 day stay in WaterSound. This property was PERFECT for our family of 5. Despite the COVID-19 closures, we soaked up every minute of sunshine, bike rides, porch happy hours, sun sets on the boardwalk, etc. We are hoping to be back next March and would definitely rent this unit again. It was fresh, clean, airy and extremely comfortable! Thank you for letting us stay!
Property Manager Response:
Amy, we are so happy to hear that you enjoyed your stay in WaterSound. We completely agree that this gorgeous condo is perfect for enjoying sunsets on the board walk and biking around the community. Thank you for staying with 360 Blue. We look forward to seeing you again soon!
great location, perfect vacation
Rating: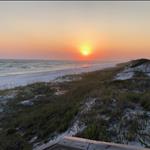 Another fantastic stay in Watersound with 360Blue. We love this condo - right by the beach boardwalks and 2 nice pools. Plenty of room for our crew, nice coastal decor, clean and comfortable. Enjoy the access to the beach club, always a good time. We'll be back!
Property Manager Response:
What a beautiful photo of the sunset view from this condo! Thank you for sharing! We are so delighted that you all enjoyed your vacation with us in Watersound at this amazing condo! We agree that the condo is beautifully decorated and the Watersound Beach Club is a perfect spot to relax by the pool! Thank you for staying with 360 Blue, we look forward to hosting you again soon!
July 2019 Stay
Rating:
Our family loved our stay, we will definitely be back to Water Sound each summer!
Property Manager Response:
Crystal, we are delighted to hear that you enjoyed your stay in WaterSound. Thank you for staying with 360 Blue. We hope to see you all again soon!
June 2019 Stay
Rating:
We love watersound - the beach club makes it a perfect relaxing vacation . Loved the bikes that were included with the condo ....the additional ones we rented from 360 were awful- super old and rickety (lesson learned to not get them delivered) The condo is a convenient location to pool and beach and beach club ...and an easy bike ride away from the Hub!!
Property Manager Response:
We are so delighted that you enjoyed your stay with us in Watersound! We especially love the photo you shared, it looks like everyone enjoyed their time at the beach! Thank you for joining us, we hope to host you all again soon!
April 2019 Stay
Rating:
Great property, great amenities.
Property Manager Response:
Thank you so much for your wonderful feedback for this wonderful home and community! We hope to see you again very soon, thank you for staying with 360 Blue!
July 2018 Stay
Rating:
We had a lovely time in WaterSound. The property was beautiful as was the beach and club house. The service at the beach & club house was impeccable. The food was very good and the drinks were on par!!! It's definitely a place we'll visit again!!
Property Manager Response:
We are so glad that you and your group had a wonderful time with us in Watersound! We agree that the community and these condos are hard to beat! We especially loved the photo you shared with us! We hope to see you all again soon!
June 2018 Stay
Rating:
We enjoyed our stay in the condo. Very pretty decor and it was clean. The only thing I think needs addressed is the TV in the living room. It is hard to manage the cable and the DVD player does not work.
Property Manager Response:
We are so glad you enjoyed your stay with us! We appreciate your valuable feedback and we will absolutely share this with our team to hopefully make things a little simpler for future guest. We hope to see you again soon!
June 2018 Stay
Rating:
We loved the location much less crowded than Water color and Seaside which was what we were hoping.. Very family friendly and we were able set up on the beach with our own chairs and get a front row seat to watch our kids play in the water.. Getting beach club access cards took forever when we arrived due to long wait and only one staffer to assist. Your kids have access to make charges on your beach club account which must be linked to your credit card. There is no way to block that so be aware when you hand them that card! I'm sure the club is nice we didn't go simply cause you can't bring anything of your own in such as drinks water etc and the weather was so bad the few moments of outside time we got we spent on the beach. The condo itself was ok. Great set up for kids to share a room. It was clean. Several things didn't work in the bathrooms like fans and the drains were clogged when we arrived.. If you are used to sleeping in a comfortable bed or have a bad back bring some Advil and a mattress cover
Property Manager Response:
We are so glad you that you enjoyed the Watersound area! We do agree that this area is perfect for a quiet and relaxing beach vacation! The photo you shared is adorable! While I do show that we sent out our maintenance technician to fix the fans and drains and they were successful, we do apologize for any inconvenience experienced during your stay. We are happy to report that the mattress have been replaced with new Casper mattresses and they are a dream! We hope to see you again soon!
February 2018 Stay
Rating:
Have stayed at 202 several times and it is very enjoyable. Very sad that the Beach Club pool House had been burned so we couldn't use the Beach Club pool. That was one of our favorite places to relax. Should not have had to pay so much extra for the amenities when the Beach Club pool was not working. Love the new pool that is almost open next month.
Property Manager Response:
Thank you so much for choosing 360 Blue. Losing the club house was truly heartbreaking for everyone. Both pools are reopening by spring break including the brand new lazy river! We are so sorry these were not available for your stay but we hope to see you back soon to check them out!