watersound-99-compass-point-way-s-304
WaterSound 99 Compass Point Way S #304
HOME HIGHLIGHTS:

- 2 Adult Bikes

- Free WiFi

EXECUTIVE ACCESS: WaterSound guests staying at this property have complimentary access to the WaterSound Beach Club and 3 community pools (including the 7,000 square ft zero-entry pool at the WaterSound Beach Club). Guests also receive 20% off stand up paddle boards as well as complimentary use of two kayaks or canoes for one hour per day at the WaterColor Boathouse. For an additional cost, they also receive full access to Shark's Tooth and Camp Creek Golf Courses, the WaterSound Fitness center, and 2 tennis courts at the Shark's Tooth Club and the WaterSound Beach Club.

LOCATION: This condo is located Gulf Front.

DETAILS: 99 Compass Point Way, unit 304 is a fabulous gulf front condo with amazing views of the Gulf of Mexico, making this an unforgettable vacation location! This sleek 2 bedroom 2 bath 3rd Floor condo in WaterSound will not disappoint! It has been newly remodeled and has new furnishings and gorgeous hardwood flooring. With its awe-inspiring views and its terrific location, this will be your perfect vacation retreat! When entering the condo, you will be welcomed by the relaxing great room with its warm tones, high ceilings, a 75 inch flat screen television and spectacular views! You will also be able to enjoy meals from the home's beautiful kitchen! There, you will experience the high end appliances, granite counter tops, stunning cabinetry and the breakfast bar. This kitchen has all of the items needed to prepare that delicious meal! This open floor plan has plenty of room for everyone to enjoy after a fun-filled day at the beach. What a perfect end to a perfect day! The master king bedroom has a 65inch flat screen television and a connecting bathroom with a double vanity, soaker tub and a glass shower. Next, you will find a bedroom with two queen beds with a connecting bathroom with a single vanity and shower/tub combination. This condo has ample indoor and outdoor space, which truly makes for great gathering spots for everyone to spend time together, making a memorable vacation! This wonderful WaterSound condo is simply stunning and gives you the serenity you have been craving and it is all here at one of the most beautiful beaches in the world!

SLEEPING ARRANGEMENTS: (Sleeps 6)

FIRST FLOOR:

Guest Bedroom: Two Queens, Private Bathroom With Shower/Tub Combo

Master Bedroom: King, Private Bathroom With Shower and Tub

AMENITIES INCLUDE: 2 adult bikes provided. Complete Clean Linen Participant - ALL linens, including comforters laundered upon every checkout.

360 BLUE STAFF & SERVICES: Exclusive Guest Experiences, Concierge Services, Grocery Delivery, Private Chef & More (Extra costs & advanced notice may be required)
Thank you for entering your review. The review will become available to the system shortly.
June 2019 Stay
Rating:
I've stayed at Compass Point in the Watersound community three times between 2018 and 2019. Each time, my experience has been incredible! The weather was hot but beautiful; the beaches were clear and not too rough and the Beach Club was a fun experience on the 4th of July -complete with a festive hamburger cookout and attentive poolside service! The choices of delicious restaurants are abundant on 30-A!! I can't wait to plan my next trip!!
June 2019 Stay
Rating:
Great location, beautiful and scenic community. Across from pool and close to Beach Club. The condo is beautiful and nicely decorated however there are some items and furnishings that should be added to make the condo feel complete. Guest Bedroom has no dresser or drawers for clothing storage and few hangers so guests have to live out of suitcase which is not welcoming. One remote works guest and family room TV. Kitchen utensils are cheap and flimsy and there is no dust pan or vacuum...an essential for beach properties. Our biggest concern was lack of recycling options. There is NO recycling on property, nor complex, nor beach or beach club... which is very odd and unique for 30-A. Paper straws but you cant recycle the endless amount of plastic and cans being used. Hopefully this rectified soon as it should be. We did try to call the Property Mngmt. number provided a few times but after waiting on hold for 20 mins it wasnt worth missing out on vacation to ask for a dust pan.
April 2019 Stay
Rating:
The accommodations were good and we were very excited to see the large flat screen TVs. However, the cable service was terrible. The guides never worked (just said "No information" for every channel and would hang up the tv every time you selected the guide) so we would have to scroll through every channel every time when we wanted to watch tv. And, there were very limited channels offered. The remote for the master bedroom was tiny and very hard to use. TV in spare bedroom didn't work and couldn't even be turned on or off. We did not have guests but this would have been very disappointing if we had. There was a remote for a DVD player but no DVD player. Given the horrible cable offered, it would have been nice if there was actually a DVD player, at the minimum.
Property Manager Response:
We deeply apologize for the issues with the televisions during your stay. We would have loved to have sent a maintenance technician by to look into this for you and get that corrected so you could sit back and enjoy the flat screen! In the future, please let us know what we can do to make your stay even better! Thank you for your feedback, we will be sure to share this with our team and we hope to see you again!
March 2019 Stay
Rating:
We absolutely LOVED our time in Watersound. We can't wait to come back! The condo was perfect for our family of four. Our young children shared the "guest" room, and we enjoyed the master. The living area was so spacious; we never felt cramped. The view of the ocean and dunes was beautiful. Our favorite part of the trip was the Beach Club - our kids loved all of the activities available, and we loved the beach set up and cocktails by the pool! The only bummer was that the Beach Club pool heater was broken, and our young kids didn't swim much because of that (the air temperatures were a little colder, and so the pool heater would have been nice).
Property Manager Response:
We are so delighted that you had such a great time at this amazing home in Watersound! We agree that the Beach Club is the perfect spot to enjoy your vacation! Thank you for staying with us! We hope to host you all again soon!
March 2019 Stay
Rating: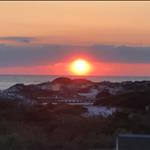 We had stayed previous years in Miramar Beach but this was our first time further east. WaterSound was perfect for my family of 4. The property felt private and secluded with very easy access to the pool and a very short walk to the beach. While some of the large houses are nicer this location is very conveniently located right up near the ocean to save from having to haul a bunch of stuff in a golf cart of having to bike. The Hub is a short walk or bike ride for more active entertainment and it was a very reasonable bike ride to other spots like SeaSide or Rosemary as well. Having access to the Beach Club is another bonus that gives you tennis, basketball, a restaurant, and more pools. Unit is very spacious and well decorated to put you in a beach-y mood right when you arrive. Had a great time and hope to be back!
Property Manager Response:
What a stunning sunset photo! You truly cannot beat the view from this unit! We are so glad you and your family had such a great vacation in Watersound. From the beach club to the hub, its such a great location and always things to do! Thank you for choosing to stay with 360 Blue and we hope to have you back in Watersound again soon!
February 2019 Stay
Rating:
We had a wonderful time! The condo is amazing with gorgeous sunset view! David is a great host and went of his way to make everything perfect for our Valentines get away! 360 Blue was also very attentive. 5+ Stars!
Property Manager Response:
We are so delighted that you enjoyed your time spent at this immaculate condo in Watersound! We agree that the views are hard to beat and the photo you shared is priceless! Thank you for staying with 360 Blue, we hope to see you again soon!
December 2018 Stay
Rating:
David and his family are great hosts and I have already told him I will stay again! In fact, I have a friend looking to stay at this location as we speak!
Property Manager Response:
We are so delighted that you enjoyed your stay and thank you for taking the time to send us an email in regards to the property. We look forward to seeing you all again soon!
November 2018 Stay
Rating:
We thoroughly enjoyed our long weekend in the condo. Clean, comfortable, and relaxing with beautiful views!
Property Manager Response:
We are so glad that you enjoyed your stay with us in Watersound! Thank you for staying with 360 Blue, we hope to see you again soon!
September 2018 Stay
Rating:
Stayed 3 weeks - and every minute was spectacular! Condo is beautifully decorated and has everything you could dream of! Including the huge flat screen TV's (can't miss football) and fully stocked kitchen! Comfortable beds and high end linens! The view from the condo is breathtaking - sun sets directly in front of condo! Pool across from the condo is beautiful and has great food and margaritas :) full service! The nature trails, dog park, and puttering park are also fun to visit! Having Watersound Beach club access is a great bonus. Played golf at Camp Creek which is a great course! Cannot say enough about this special spot in paradise.
Property Manager Response:
We could not agree more! This condo really does have it all and we are so glad that you all enjoyed your long beach getaway with us! The photo you shared with us is absolutely amazing and gorgeous! This condo and the Watersound community are second to none and we are looking forward to seeing you all again soon!
March 2018 Stay
Rating:
I LOVE THIS CONDO!!!! David is the best possible host you could ask for and so very accommodating! Not only is this a great price for the place, location, and amenities; David makes sure your stay is everything it could be and more! He has the best recommendations... everyone GO TO THE SHARD SHOP... and was very helpful at answering any questions I had. Now this place is GORGEOUS and CLEAN!!! With a view of the gulf!! What more could you ask for? It is very spacious and perfect for a weekend getaway or longer vacations. I definitely will be coming back again and again. And hopefully soon! The photo I added is the view from the master bed!
Property Manager Response:
Sounds like you had a truly amazing stay and we are so thrilled! We love it when a guest finds a home that they can come back to again and again. We look forward to having you back soon!
February 2018 Stay
Watersound Compass 304 LLC
Rating:
We left the snowy mountains of New Hampshire on February 14 and arrived at the most beautiful place. We enjoyed every minute of our stay in Unit 304. The write ups and the pictures we saw did not disappoint . A beautiful and immaculate condo with 2 bedrooms, two full bathrooms , a fully equipped modern kitchen, large living room, two balconies, water views and the most beautiful pool just outside our building. This unit comes with full privileges to St. Joe's Beach Club, a short bike ride or walk away. My husband and I spent many happy afternoons sitting on that beach. We took rides to quaint communities on historic 30A. Rosemary Beach, Seaside, and Seacrest are all worth the time to visit. Renting this condo also provides you with a team of professionals that will help you with all your questions and needs. This was the most relaxing and peaceful vacation I have ever had. The sunsets seen from the balconies or the beach were breathtaking every night. We came back to New Hampshire totally refreshed.
Property Manager Response:
We are absolutely thrilled that you were able to get away from the snow and warm up a bit on 30A! This spacious condo's amazing views, location, and amenities make it the prime WaterSound spot. The Beach Club is definitely an added plus. What a lovely picture of you and your husband on the beach! Thank you for sharing. With Rosemary Beach and Seacrest so easily accessible, the WaterSound community's location is perfect if you want to explore 30A. Those sunsets truly are amazing. We are so glad our staff could help in providing you such a relaxing and peaceful vacation. Can't wait to have you back again!